Solar Philippines Nueva Ecija Corp. (SPNEC), the first pure renewable energy firm to go public, the company is pushing through with its plan to build a solar power facility in Nueva Ecija using part of the proceeds from its initial public offering (IPO). The offer period is planned for Dec. 1 to 7, 2021, with a tentative listing date on the main board of the PSE on Dec. 17, 2021.
SPNEC is a wholly-owned subsidiary of Leviste-led Solar Philippines Power Project Holdings, Inc., will be offering to the public 2.7 billion common shares. The company may net up to P2.59 billion from its IPO, which will be used to fund the first 50-megawatt-direct current (MWdc) for "Phase 1A" of its solar project.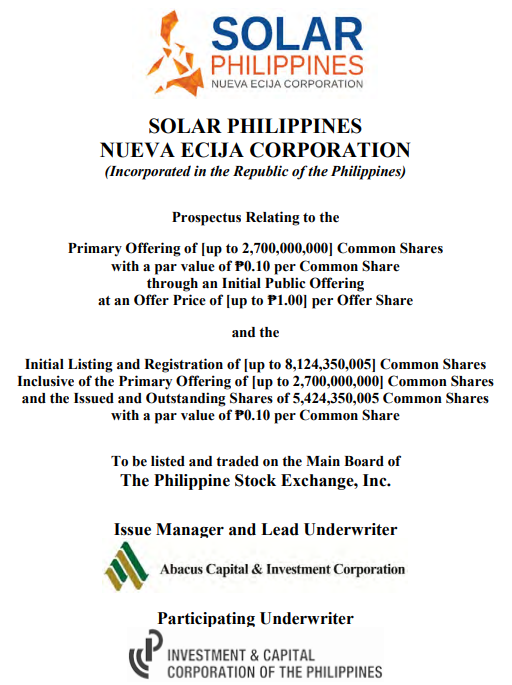 Website: https://solarnuevaecija.ph/
The Owner
Solar Philipines Power Holdings, Inc.(SP) the parent company of SPNEC is the largest solar company in Southeast Asia with over 300 MW of generating capacity and 10,000 hectares of land area conducive for solar farms.
Founded in 2013, we have been creating a path towards a renewable future by embarking on utility-scale solar farms that generate additional electricity supply for the Luzon grid, effectively increasing the productivity of many communities and customers.
By pioneering the development of solar energy zones, we believe that we are helping the Philippine solar energy industry eliminate barriers and grow further, creating opportunities to build more solar-fired facilities across the nation.
Leandro L. Leviste founded Solar Philippines in 2013. It is now Southeast Asia's largest solar company and integrated solar developer, EPC, and power generator, with a mission to make cheap, reliable electricity universally accessible. He is seen in the industry as a visionary who has persevered in pioneering new technologies and business models, defying conventional wisdom to advance progress for the Philippines.
Upon founding Solar Philippines, Mr. Leviste has received numerous awards, including being ranked at the top of Forbes Magazine's inaugural "30 Under 30" list for Asia in 2016. The International Finance Corporation of the World Bank awarded Mr. Leviste's first mall project its "2016 Sustainable Energy Finance Award". His pioneering innovations won the company the Asian Power Awards for Independent Power Producer of the Year, Dual Fuel Power Plant of the Year, and Solar Power Project of the Year.
The Company
SPNEC is developing a 500MWp solar power plant in Barangay Las Piñas, Sinasajan, and Peñaranda, Nueva Ecija. The location has good levels of irradiance and adequate available land, making it conducive to solar power generation.
Project development will be phased; with an initial 225MWp to be developed and commissioned by 2022. The initial 225MWp is further divided into subphases with 50MWp to begin construction in 2021 and the balance to begin construction in 2022, upon securing project financing.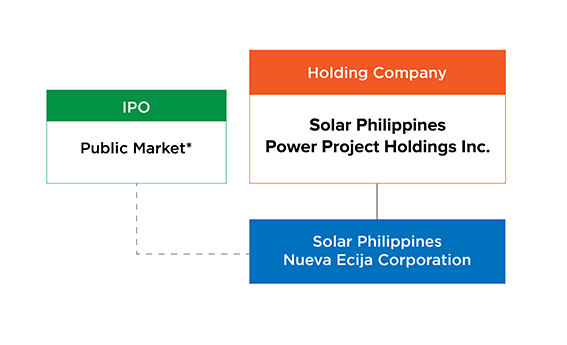 The Company will have an approximately 10-km long, 230 kV transmission line from the project site to the Cabanatuan Substation of the National Grid Corporation of the Philippines.
SPNEC plans to construct an additional 275MWp after commissioning the first phase. The project, upon its targeted commencement of commercial operations by 2022, would be the country's largest ground-mounted solar power project. The Company believes these economies of scale will enable it to spread over a larger capacity the fixed costs of construction and operations to achieve a cost advantage.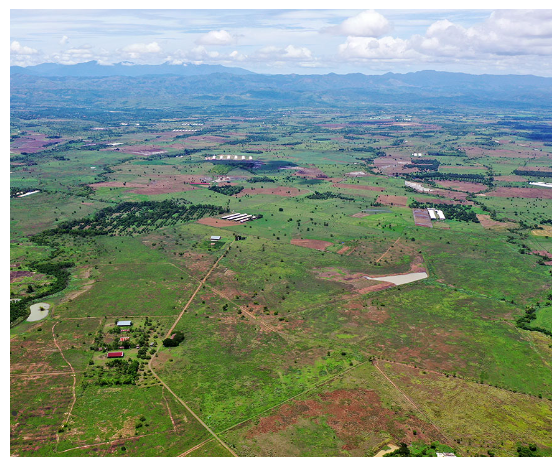 NET CAPACITY : Phase 1: 225 MW, Phase 2: 275 MW
LOCATION : Brgys. Las Piñas and Sinasajan, Peñaranda, Nueva Ecija
SPECIFICATIONS :
Phase 1: 225MW
412,848 PV ModulesApproximate Generation:
742 GWh Annual Gross Output
17% Capacity Factor
230kV Transmission line
NGCP Cabanatuan Substation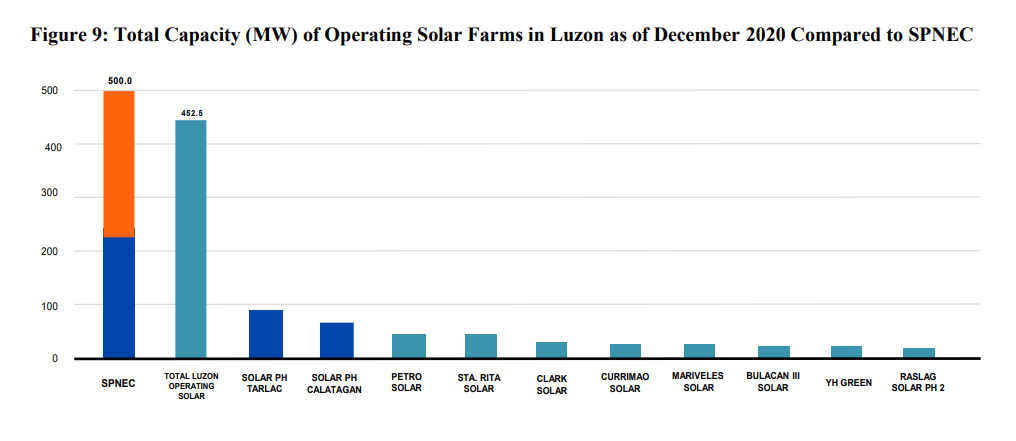 As of the date of this Prospectus, the Company has not yet started commercial operations. Therefore it has no customers as of the moment. The Company foresees among its customers to be Distribution Utility Companies or Retail Electricity Suppliers.
Summary
SPNEC has no operating history, so there are no financials upon which to base the pricing. The company got the IPO approval because of the specific exemption of renewable energy companies from the PSE's normal "operating history" requirements. Under the PSE's Supplemental Listing and Disclosure Requirements for Renewable Energy Companies approved in 2011, which allows development-stage project companies to list, subject to certain requirements.
Whether or not this IPO is "worth it" depends largely on the opinion of SPNEC's ability to execute its plan. Solar Philippines has impressive partnerships, Korea Electric Power Corporation (KEPCO) bought a 38% stake in SP Calatagan for P2.25B and Prime Infra of Razon bought a 50% stake in SP Tarlac. Read more..
Solar Philippines also has a Joint Venture with the Ayala group, AC Energy Philippines acquired a 97.6% stake in a subsidiary of Solar Philippines Power Project Holdings Inc, namely Solar Philippines Central Luzon Corp (SPCLC) early this year. Read more..
Solar energy is now the cheapest to produce and the cost is projected to fall further over time. This chart shows all you need to know: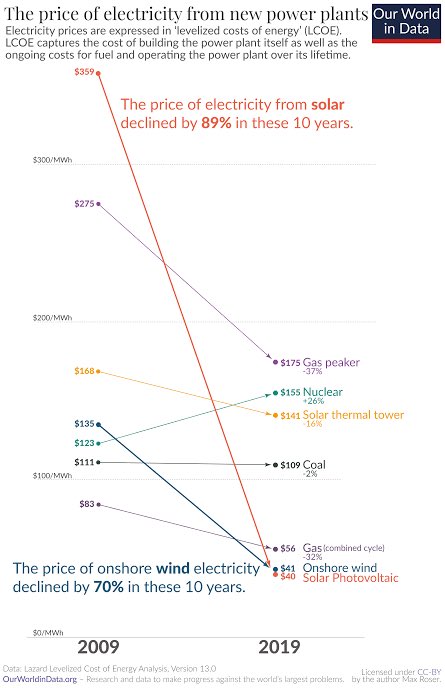 The solar panels that are going to be installed in Nueva Ecija are of the highest quality and will be imported overseas to ensure that they will be sustainable in the long term. On average solar panels last for about 25-30 years. However, this doesn't mean that they stop producing electricity after 25 years – it just means that energy production has declined by what manufacturers consider to be a significant amount.
According to the latest data, Renewable energy is projected to comprise more than 50% of global power generation by 2035. In addition, solar energy is expected to grow the fastest, becoming the largest power generation source by 2040, and is projected to increase by a factor of 60 from 2015 to 2050. So if you are a fan of Renewable energy, I believe SPNEC can be a good addition to your investment portfolio, as for traders, watch out because institutions like to play energy-related stocks like what's happening to AC Energy and Synergy Grid.
---
Trade Stocks: https://gtrade.ph/
Trade Crypto: https://www.binance.com/en/futures/ref/stockbytesph
Get a 10% discount on Binance trading fees: BNWCMBAU
*The owner of StockBytes PH is a licensed Stockbroker and Financial Advisor, contact us if you want to open an account and start investing in stocks.
Ready to start your financial journey? email us at [email protected] or follow our social media account and join our groups, Cheers!