The man behind the Philippines' beloved bee, Tony Tan Caktiong is another rags-to-riches story – from a small ice cream franchise to becoming the fast-food giant that everyone loves. The founder and chairman of Jollibee Foods Corporation, and the co-chairman of DoubleDragon Properties, Tony and his siblings as kids worked as helpers at their family's restaurant business in Davao. They did everything from washing dishes to bussing tables to serving customers.
Early Years
Tony is the third of seven siblings from a poor family who immigrated to the Philippines from Southeastern China in search of a better life. The son of a cook who used to work at a Buddhist temple, which was where Tony's association with the food services business began. The family opened a small restaurant in Davao and became profitable with the help of all family members. He experienced hardships early in his life and this inspired him to help the family earn money.
The family would soon have a stable income and was able to send their kids to prestigious schools. Caktiong graduated from the University of Santo Tomas (UST) with a degree in BS Chemical Engineering. At the age of 22, inspired by a visit to an ice cream plant, he set out to gain his own foothold in the restaurant business: relying on family savings, he seized a franchising opportunity with Magnolia Dairy Ice Cream in 1975 and opened two ice cream parlors the Cubao Ice Cream House and Quiapo Ice Cream House.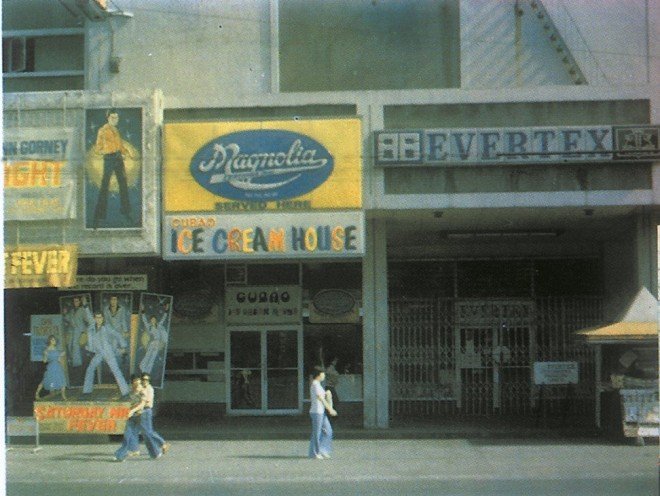 In response to customer requests, he added hot meals and sandwiches to the menu, which soon proved a lot more popular than ice cream and the birth of the famous fried chicken which would soon become the famous Jollibee ChickenJoy. They also offered hamburgers and Pinoy-style spaghetti. Three years later, in 1978, he decided to capitalize on this development, discontinued the Magnolia franchise, and converted his parlors into fast food outlets.
The Happy Bee
Realizing that he needed a brand name and logo for his new business, Mr. Caktiong and his family decided on using a smiling red bee. They chose a bee because of its association with hard work, and because honey represents the sweet things in life. The "jolly" prefix was intended to connote happiness and enjoyment. Jollibee invested millions of pesos to register the "bee" trademark in the Philippines and other key countries.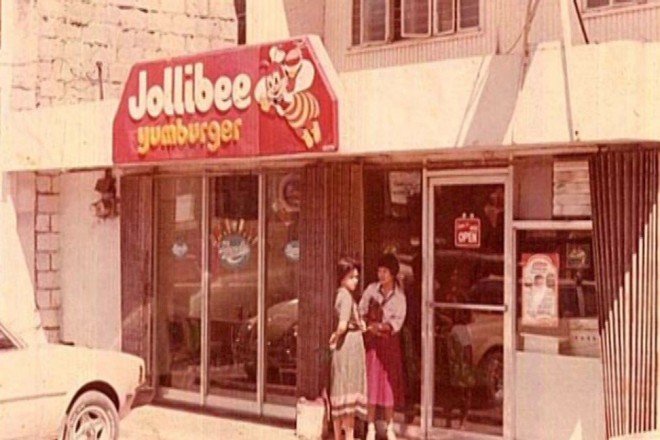 Tony believed that he knew the market better and had the right products, and decided to grow the brand. The line-up of products that Jollibee is best known for today, all of them tailored to meet local tastes, were pretty much in place by the early '80s. Its menu items include the Yumburger and the uniquely sweet Jolly Spaghetti, but the star of the show is the Chickenjoy fried chicken, introduced in 1980. It's also the key product in Jollibee's international expansion because most cultures tend to appreciate it.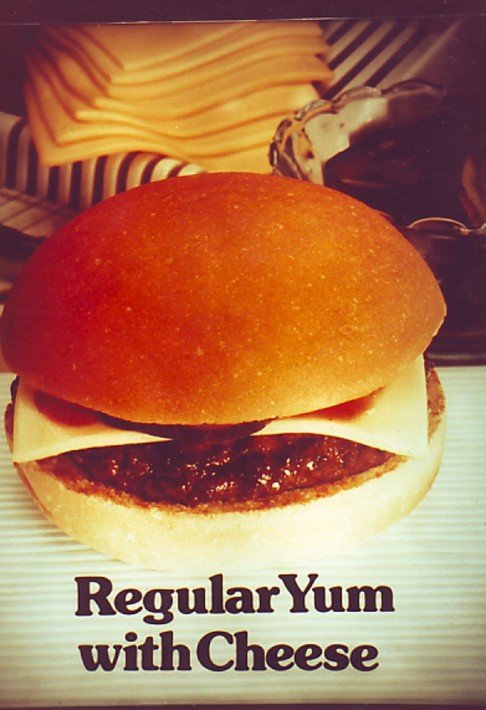 "Trademarks increased a lot of value to our business", he explains. "To the consumer, they represent either trust in the company or trust in the brand…they will remember that the brand connotes very tasty food and also the experience, the ambiance, the service, and they are also proud to be a part of that brand". Tony Tan Caktiong said.
Today, Jollibee Foods Corporation uses 8 proprietary brands (including "Jollibee" for their core fast food business, "Greenwich" for their pizza and pasta chain, and "Chowking" for their oriental food outlets), owns many trademarks (including "Bee Happy", "Yumburger", "Chickenjoy" and "Amazing Aloha") and has registered all of its logos, some of them in several countries.
Jollibee Foods Corporation relies on a franchising model for the exploitation of about half of its outlets in the Philippines. In order to protect the company's high quality and service standards, potential franchisees have to conform to a specific profile (self-driven entrepreneurs with good management skills, good community standing and excellent interpersonal skills).
Since its establishment at the end of the 1970s, Jollibee Foods Corporation has grown spectacularly: today, Jollibee is the leading fast food chain in the Philippines with over 50% market share and hundreds of restaurants all over the country. The company's public listing at the Philippine Stock Exchange in 1993 broadened its capital and allowed for the acquisition of the "Greenwich" pizza and pasta chain in 1994. Other major acquisitions include the Chinese fast food chain Yonghe Dawang (in 2004) and the Chowking oriental food outlets (in 2000).
The company started offering franchise opportunities in 1979 and in 1993 it was listed on the Philippine Stock Exchange, with its share price rising 135% in the first three months.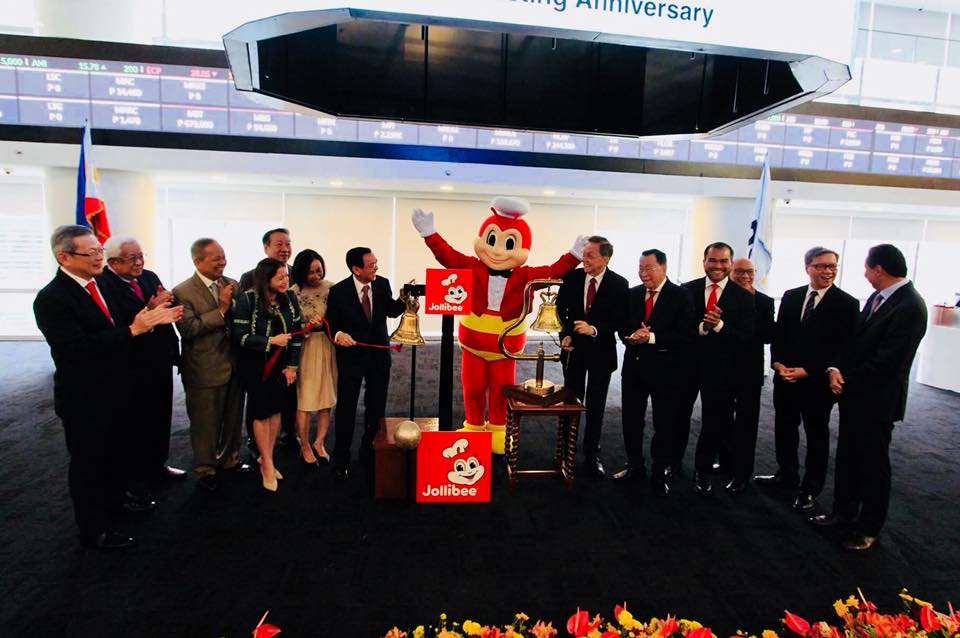 Jollibee Foods Corp Brands(2021):
Jollibee – Filipino-style fast food restaurant with American-influenced dishes specializing in burgers, spaghetti, chicken, and some local Filipino dishes.
Greenwich – The fast-food restaurant features a variety of Italian main and side dishes specializing in pizzas and pasta.
Red Ribbon – The bakeshop offers a wide array of baked goods specializing in cakes
Chowking – The fast-food serve Chinese food menu predominantly selling noodle soups, dim sum, and rice bowls with toppings.
Mang Inasal – Barbecue fast-food restaurant chain.
Burger King Philippines – JFC is managing the operations of the American hamburger fast-food chain in the Philippines.
Smashburger – American fast-casual hamburger restaurant chain.
Yonghe King – a Chinese fast-food restaurant that specializes in noodles.
Hongzhuangyuan – Chinese fast-food chain.
Tortas Frontera – US-based Mexican food restaurant by chef Rick Bayless, owns 47% stake.
Panda Express Philippines – Joint venture with a Chinese-American fast food restaurant's parent company, Panda Restaurant Group through JBPX Foods, Inc.[6] and operates its Philippine chain, owns 50% stake.
The Coffee Bean & Tea Leaf – American coffee chain founded in 1963, purchased by JFC in 2019.
Yoshinoya Philippines – Japanese fast-food chain. In 2021, JFC announced plans to establish a subsidiary with Yoshinoya Holdings that would serve as the franchisee of the fast-food brand in the Philippines.
Double Dragon Duo
Two of the most successful businessmen from Davao join hands to build Double Dragon Properties Inc. The partnership started in October 2010 when Jollibee Foods Corporation acquired 70% of Mang Inasal. Double Dragon Properties, a real estate company that aims to develop 100 community shopping complexes called City Malls in the smaller cities of Visayas and Mindanao.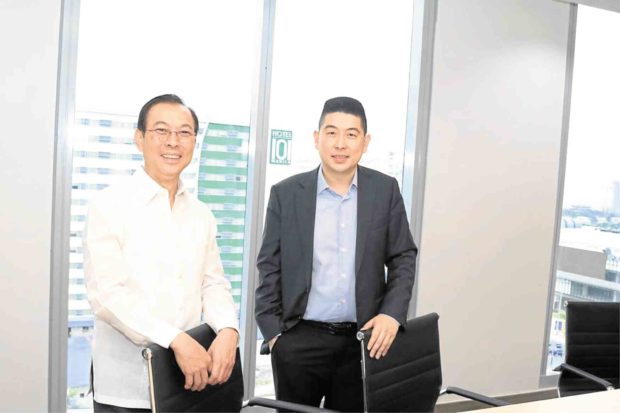 Both born in the Year of the Dragon, two zodiac cycles or 24 years apart—are working together to build a property business that seeks to benefit from the development of the countryside. Tony acts as the Co-Chairman of Double Dragon Properties Corp.(DD) and Injap Sia as Chairman.
DD and its subsidiaries own, lease, and enter into joint venture agreements covering several tracts of land for community malls, office, residential and other types of developments. As of December 31, 2019, DD has 11 subsidiaries including DoubleDragon Sales Corp.; DoubleDragon Property Management Corp.; DD Happyhomes Residential Centers, Inc.; DD-Meridian Park Development Corp.; CityMall Commercial Centers Inc.; Piccadilly Circus Landing, Inc.; Iloilo-Guimaras Ferry Terminal Corp.; CentralHub Industrial Centers Inc.; Hotel of Asia, Inc.; DD Meridian Tower Corp.; and Green Coast Development PH Corp.
The Company's core projects include CityMall, DD Meridian Park, Jollibee Tower, The SkySuites Tower, Dragon8 Mall, and W.H. Taft Residences. DD also has several projects in Iloilo, namely, Injap Tower, The Uptown Place, People's Condominium, FirstHomes Subdivision, and HappyHomes – Mandurriao.
Ice cream shop owner to Global Fast Food Tycoon
Tony would always say in all his inspirational talk that dreams are free, it is free to aspire for something. Tony's dream of establishing a globally celebrated food chain business may seem impossible during the time when Tony's only starting up 2 small ice cream houses at the age of 22. Tony holds on to that dream and works hard for it. It is not a matter of how big your dreams are, how dedicated you are in doing actions on making that dream come true.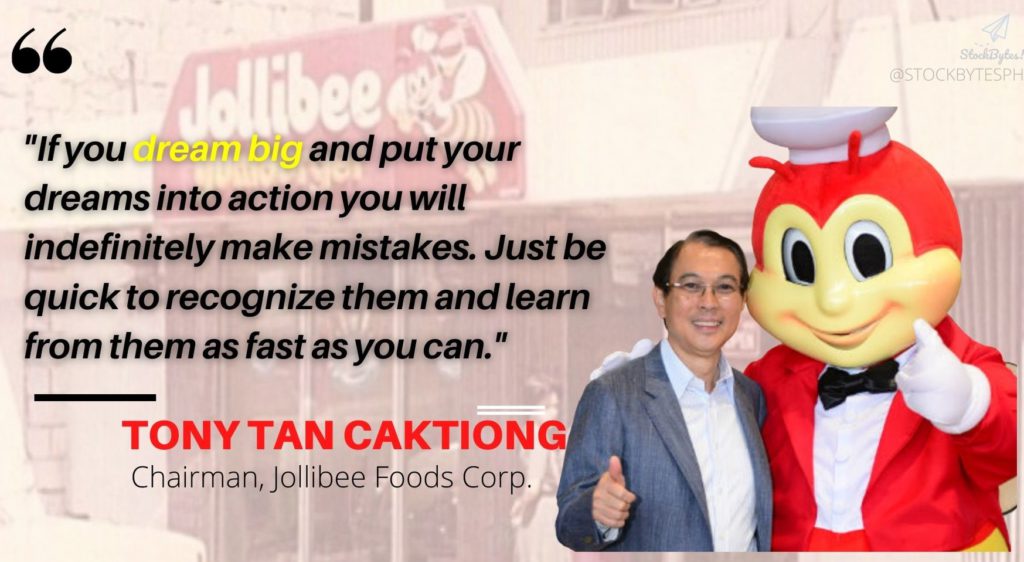 Looking back, Tony is very glad he takes chances, he takes the risk and works hard for it.  He is very thankful for the support he got from his family who never leaves his side in making big steps throughout his career. Tony Tan Caktiong dreams big, works hard, and materializes his dream thru actions that make him the owner of the country's largest fast-food chain in the Philippines. 
Believing in the beauty of his dreams combined with perseverance and hard work, holding on to it in times of trials and difficulties, and giving whatever it takes to make his dream come true. As of 2021, Tony Tan Caktiong ranked 11th in Forbes' Philippines' 50 Richest. He was also awarded the Entrepreneur of the Year and the Ernst and Young Entrepreneur of the Year in 2004.
Source: Wikipedia; WIPO; Primer PH ; PSE JFC ; BusinessNewsPH
---
Trade Stocks: https://gtrade.ph/
Trade Crypto: https://www.binance.com/en/futures/ref/stockbytesph
Get a 10% discount on Binance trading fees: BNWCMBAU
*The owner of StockBytes PH is a licensed Stockbroker and Financial Advisor, contact us if you want to open an account and start investing into stocks.
Ready to start your financial journey? email us at [email protected] or follow our social media account and join our groups, Cheers!