Business tycoon turned politician Manuel "Manny" Bamba Villar, Jr., known by his moniker "Mr. Sipag at Tiyaga" wasn't always the talk of the town. Through the real estate mogul's hard work, perseverance, and a knack for business learned from his mother, he became one of the country's richest men. Manny Villar Success Story embodies "Sipag at Tyaga", not only a famous campaign tag line for former Senator Manny Villar but the key to his success.
Early Days
Manny was born on December 13, 1949, to Manuel Villar Sr. And Curita Bamba in Moriones Tondo. Manny is the second among nine children of his parents, his father a regular government employee from Cabatuan, Iloilo, and her mother a fish dealer in Divisoria Market from Orani, Bataan. The family lived in a small rented apartment in a run-down slum. As a child, Villar initially attended Isabelo Delos Reyes Elementary School, a nearby public school in Tondo.
He also assisted his mother in selling shrimp and fish at the Divisoria Public Market, as early as age six, in order to help earn the money to support his siblings and himself to school. However, accompanying his mother interfered with his education and he was forced to drop out of school during Grade. He was then enrolled at Tondo Parochial School (later renamed Holy Child Catholic School), a private school in Tondo run by priests, to complete his elementary education.
The hustle and bustle of Divisoria Market shaped the Billionaire that we now know. He got exposed to how the Chinese businessmen do business but it's his mother that greatly influenced him. He was a working student all through college, finishing with a degree in Business Administration from the University of the Philippines where he also got his MBA.
He first worked for Sycip Gorres and Velayo (SGV) but later left to pursue his first business as a supplier of seafood for restaurants in Manila. It's said that when his clients couldn't pay him their dues, he had them sell meal tickets which helped the restaurants to pay off their seafood deliveries.
The Businessman
His first venture into real estate started in 1975 when he got a P10,000 loan and bought two reconditioned trucks, and used them to haul gravel and sand for BF Homes in Paranaque City. He later got 80 lots from BF Homes which he subsequently sold, using all the knowledge he gained from observing real estate agents. Villar then took out a seven-year loan from a rural bank offering low-interest rates. From the loan, he kick-started building and selling homes at his first project, Camella Homes Phase 1 and 2 in Las Piñas, initially with 160 units and would have resulted to be the country's largest home building company, with an emphasis on low-priced mass housing.
A well-known innovation of Villar's companies was to sell house and lot packages when the common practice at the time was to sell lots for future homeowners to build upon. He initiated mass housing projects through economies of scale, utilizing the cost advantages of developing a large-scale project in order to bring down housing prices. The number of homes built by Villar's companies totaled over 200,000 units. It was then that he would focus on low-cost housing eventually founding C&P Homes, which later became Camella Homes.
Primewater Infrastructure corp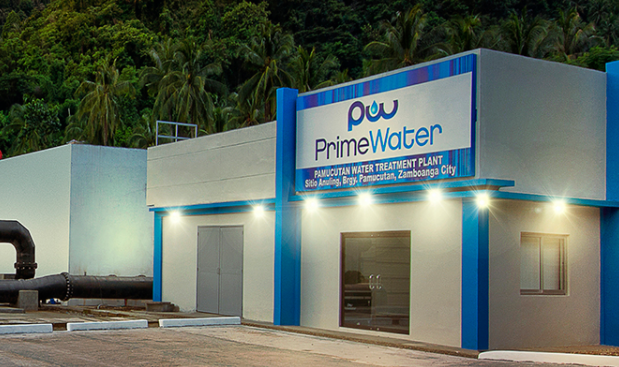 In the 1980s, Villar established Prime Water to operate and maintain water distribution systems throughout the country. It counts a 25-year partnership with the municipality of Daraga to deliver bulk water, a 25-year joint venture agreement with Lingayen Water District in Pangasinan, and a 25-year joint agreement with the Leyte Metropolitan Water District among its 30 water projects with local water districts. The Commission on Audit flagged Prime Water's operations in Guagua, Pampanga due to high levels of arsenic in the commission's 2018 annual report.
The company produces over 170 million liters of treated water daily, supplied by more than 250 deep wells and surface water resources, and is directly involved in delivering water to more than 150,000 households across the Philippines. Now under the Villar Group of companies, the water utility firm is led by their eldest son, Paolo.
Golden Bria Holdings, Inc
Golden Bria Holdings, Inc. (HVN), formerly Golden Haven, Inc., was incorporated on November 16, 1982 and is mainly engaged in the development and sale of memorial lots across various parts of the Philippines. The Company likewise develops, constructs, and operates columbarium facilities.
In 2017, the Company acquired 99.99% ownership interest in Bria Homes, Inc. (BHI) and amended its primary business purpose into real estate in order to gain flexibility in undertaking business expansion while it remains engaged in the death care industry. On March 6, 2018, the Securities and Exchange Commission approved the change in corporate name to the present one.
The Company's deathcare business operates under the "Golden Haven" brand and presently has 35 developments in 32 locations across the country. HVN also has columbaries within a selection of its memorial parks, including the 20,000-vault columbarium located beneath the Sanctuario de San Ezekiel Moreno, a chapel constructed by the Company along C5 Road, Pulang Lupa, Las Piñas. HVN also has memorial chapel services in Las Piñas and Pampanga.
HVN offers memorial lots at varying sizes and price points within each of its existing memorial park and within those memorial parks presently in development. The four basic lot packages are lawn lot; garden niche; family patio; and family estate. Purchasers of a family estate lot can elect to construct a mausoleum, the design and construction of which must conform to the Company's parameters as part of the terms of the purchase. HVN also provides, as an additional service and at additional cost to the client, construction and associated services for these mausoleums.
For its residential development business, HVN operates through BHI with 51 projects in 40 locations in the Philippines. In 2019, the Company was able to launch projects in new locations such as Alaminos, Laguna, Batangas, and Montalban, Rizal.
Vista Land & Lifescapes, Inc.
In July 1995, Villar's flagship property, C&P Homes, was listed on the Philippine Stock Exchange and grew by more than a third in one day, ballooning Villar's 80% stake in the company to $1.5 billion. Villar had concentrated on low-cost housings which were bought by the home buyers themselves, giving opportunities for the low and middle-income Filipino families to acquire homes. He also wanted to set an example to Filipino entrepreneurs that what they set their mind on can be achieved.
The PSE suspended the trading of shares of C&P Homes until its delisting from the official registry of the exchange on June 25. The suspension on June 22 only to allow the cross-sale of C&P shares acquired by Vista Land & Lifescapes (VLL) as a result of the tender offer.
The VLL group is divided into horizontal, vertical, and commercial, and other segments. The horizontal and vertical segments cater to the development and sale of residential lots and units and residential high-rise condominium. The commercial segment caters to the development, leasing, and management of shopping malls and commercial centers all over the Philippines as well as buildings catering to the business process outsourcing industry. The other segment caters to the development and management of recreational and vacation facilities such as resorts, hotels, clubs, and spas. It also includes activities from holding companies.
VLL has six wholly-owned subsidiaries namely, Brittany Corporation; Crown Asia Properties, Inc.; Vista Residences, Inc.; Camella Homes, Inc.; Communities Philippines, Inc.; and VLL International Inc.; and an 88.34%-owned subsidiary, Vistamalls, Inc.
Vistamalls, Inc.
Vistamalls, Inc. (STR), formerly Starmalls, Inc., was originally incorporated on October 16, 1969, as Polar Mines and Development Corporation primarily to pursue mineral exploration. In September 2004, the Securities and Exchange Commission (SEC) approved the change in the Company's corporate name to Polar Property Holdings Corp., as well as the change in its primary business purpose to investment, real estate, and leasing business. In 2012, the Company was renamed Starmalls, Inc. On September 17, 2019, the SEC approved the change in corporate name to the present one.
STR has a wholly-owned subsidiary, Masterpiece Asia Properties, Inc. (MAPI), and a 98.4%-owned subsidiary, Manuela Corporation (MC). MAPI and MC are operators and developers of mass-market retail malls and BPO office commercial centers mostly located in the Mega Manila area. Through these subsidiaries, STR has nine malls as of December 31, 2019.
AllHome Corp.
AllHome Corp. (HOME) was incorporated and registered with the Securities and Exchange Commission on May 29, 2013. The Company is primarily engaged in buying, selling, distributing, marketing, at wholesale and retail, of all kinds of goods, commodities, wares and merchandise.
HOME offers a line of products for home improvement and construction, including for maintenance, repairs and renovations, and decorating. The Company's product offering spans seven categories from over 800 local and international brands. These product categories are furniture, hardware, appliances, tiles and sanitary wares, homewares, linens and construction materials. The Company also has services such as interior design consultations, door-to-door delivery and installation services, customizable furniture, free furniture assembly services, and gift registry.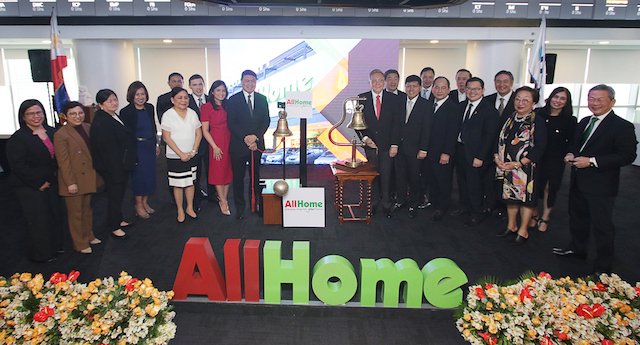 The Company has four store formats in operation, three of which are under the "AllHome" brand – large mall-based store, large-free-standing store, and small specialty store – and one "AllBuilders" store with a more extensive selection of hardware, tiles, and sanitary wares, and construction materials. As of December 31, 2019, HOME has 45 stores in operation, 35 of which are located in Mega Manila, five in Luzon, two in Visayas, and three in Mindanao.
After the successful market debut of Villar-led AllHome Corp. tycoon Manny Villar is targeting to publicly list three or four more companies on the Philippine Stock Exchange."We have other companies that are ready to list but we are still studying the environment if it is okay to list," Villar told reporters on the sidelines of AllHome's listing ceremony at the Philippine Stock Exchange on HOME listing day."There will be about three or four possible candidates [for IPO]," he added. Villar, however, refused to divulge further details on which of his family's group of firms will go public. He noted that listing new companies will happen "in the next three years."
AllHome is one of the subsidiaries of AllValue, the Villar group's holding company for retail investments. Other retail concepts under AllValue are AllDay supermarket, AllDay convenience store, and Coffee Project.
AllValue's first foray in retail was through AllHome, a one-stop shop for home builders and owners. Following its rapid expansion and success in Luzon, the group then grew their retail portfolio to include department stores, supermarkets, and food establishments.
AllDay Supermarket is not just your ordinary supermarket. With bright and thoughtfully-designed interiors, spacious aisles, and well-ventilated stores, AllDay Supermarket is redefining the grocery shopping experience for Filipinos. The produce, meat, and poultry sections are always stocked with certified fresh products. Aside from the always-fresh goods, AllDay also has a wide collection of gourmet deli and cheeses and a whole section dedicated to imported goods from all over the globe. AllDay Supermarket also has more food options through Gastroville where delicacies from all over the country and the world can be sampled and its Paluto section where you can choose fresh ingredients and have them cooked the way you want in true dampa-style fashion.
Established in 2014, Coffee Project has now blossomed into the most Instagram-able coffee shop in the Philippines. Every location has a unique look and character to it but all locations have these in common—long tables that can comfortably seat big groups, a multitude of sockets for those who prefer to work in cafes, and cozy nooks for those who want to enjoy some quiet time. On top of that, coffee lovers can always look forward to new drinks and items on the Coffee Project menu every season.
The AllValue Group is going full speed ahead as it continues to add more stores to its network and more brands to its portfolio.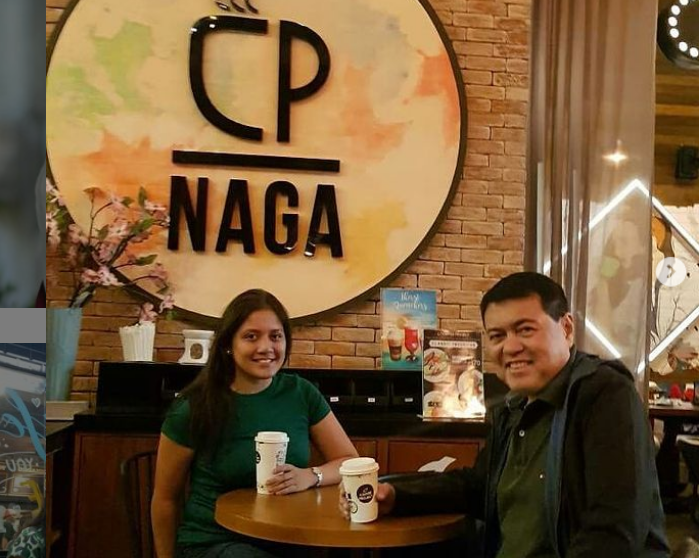 Villar has received several awards for his achievements during his professional and business career, including being one of the Ten Outstanding Young Men in 1986, the Agora Award for Marketing Management in 1989, Most Outstanding CPA by the Institute of Certified Public Accountants in 1990, and Most Outstanding UP Alumnus in 1991. In 2004, he was named the Most Distinguished Alumnus, the highest recognition given by the University of the Philippines Alumni Association.
In 2015, the MB Villar Group formed another company, Vitacare Healthgroup, Inc., a group that will build a chain of hospitals nationwide. Its first project Vitacare Unimed Hospital & Medical Center (in partnership with Unimed) will be located in Vista City, Las Pinas will be fully operated in 2018
The Senator
Villar started his political career in 1992 as a Congressman in Las Pinas. He served as a speaker of The House of Representatives and later on run for senate. Senator Manny filed 204 legislative programs of action bill on his first day in office. He was the third-highest filer (Senator's who filed the most number of bills) of the 12th Congress of the Philippines. Not long did Senator Manny was elected as the Senate President which he excelled gloriously. He was the very first person to head both the Congress and the Senate of the Philippines after World War II.
Villar authored many bills, some of which have since become key laws in the country:
● Barangay Micro Business Enterprises Act (RA 9178)
● Overseas Absentee Voting Act (RA 9189)
● Anti-Trafficking of Persons Act (RA 9208)
● An Act Granting Additional Benefits and Privileges to Senior Citizens (RA 9257)
● Violence Against Women and their Children Act (RA 9262)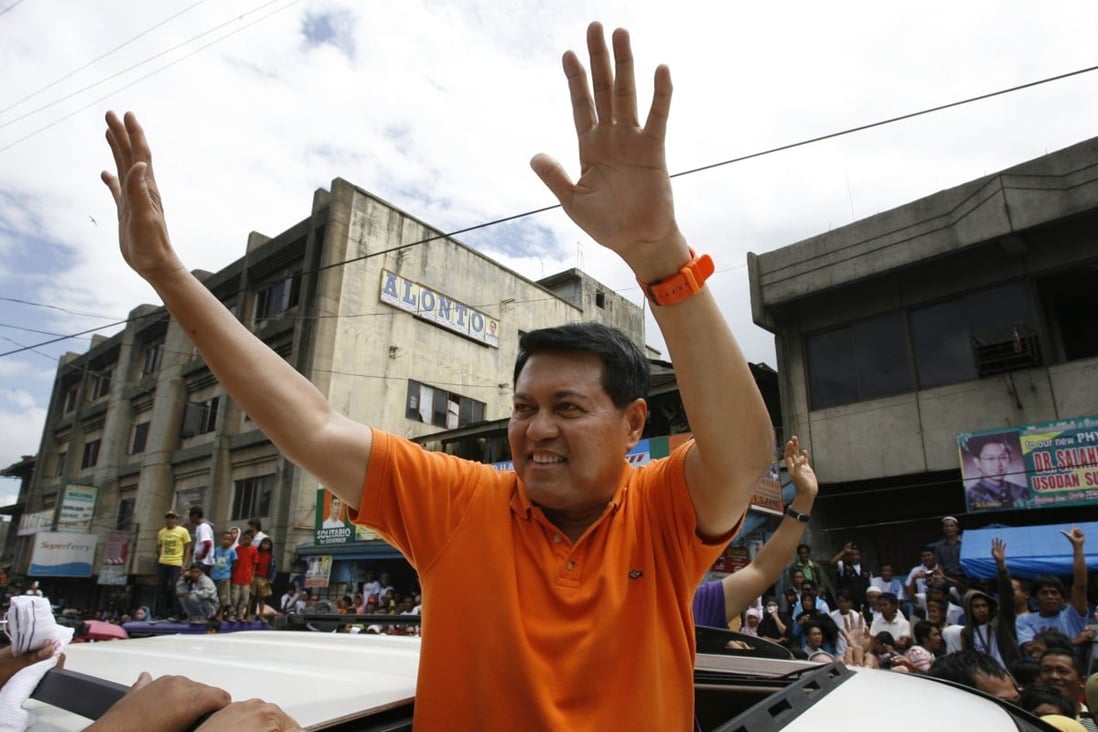 As successful as he was in the legislature, his failed bid at the presidency in 2010 eventually led to his departure from politics. In an interview with the Philippine Daily Inquirer, the first all-Filipino Forbes Billionaire said:
—
"I was wealthier before I went into politics—the best proof that I did not enrich myself in public office. Now that I'm back, I've recovered what I lost."
—
Mr. Sipag at Tyaga
Everyone loves rags to riches story, but the tale of a poverty-stricken boy who becomes the country's wealthiest man is almost too amazing to be true. But this is the story of the Philippines' biggest billionaire Manuel "Manny" Villar Jr.,. It's no secret that Villar was born to a low-income family and through his 'Sipag at Tyaga' became one of the richest Pinoys today. Despite having a net worth of US$5.6 billion in 2020, Manny does not live particularly lavishly. Here are five ways the country's wealthiest man lives a modest lifestyle.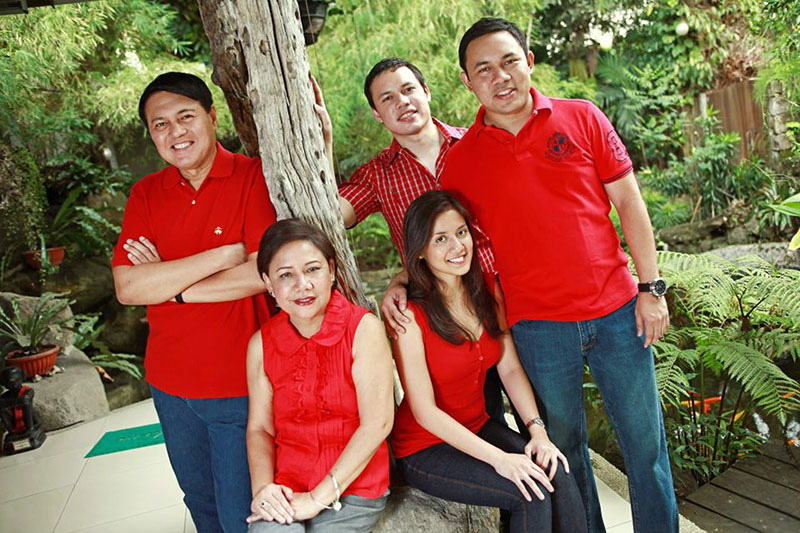 Manny met Cynthia Aguilar back in college who is his classmate and the two become friends and got married in 1975 in a simple Christian wedding with only 60 guests because they were scrimping that time, and later blessed with 3 children shortly after. Back then, Villar Family lived in a simple two-story, two-bedroom house in Las Pinas City which denies the news that Villar family lives in an extravagant mansion being the leader in Housing and Development Industry. The family remained grounded and simple despite the fact that they almost had everything they could ever wish for.
While other billionaires all over the world build huge car collections as a symbol of their success, Villar and his family are content with driving regular Toyotas. In fact, his two sons, Paolo and Mark, did not even own automobiles until they finished college. Their ultra-rich father did not make it easy for them, as they even had to take out a car loan.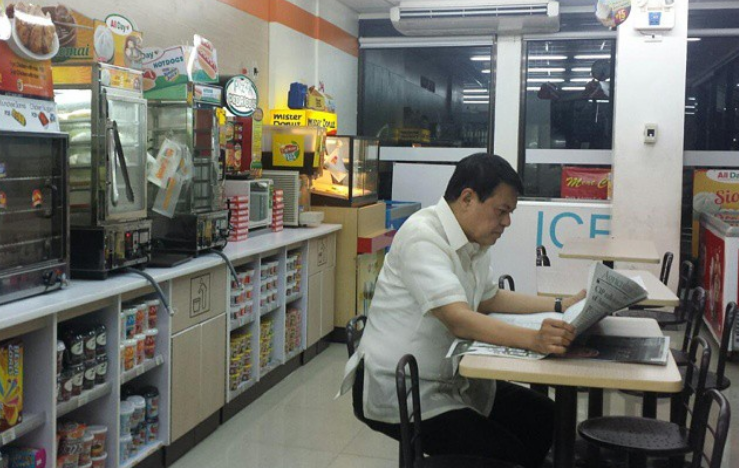 With his massive wealth, Manny could have a fleet of private jets at his disposal, so it's hard to believe that he does not even fly first class. Apparently, the self-made billionaire doesn't see the point of splurging money on being in the air, so he is perfectly content with flying business class.
For a man who has constructed thousands of houses and high-rise buildings, you'd think Villar would have a slew of slick workplaces to slide between, but in fact he does not actually have an office. As the owner of Coffee Project, an Instagrammable coffee shop with 40 branches, he uses its outlets as his "mobile office". The business mogul believes that as long as he has a smartphone and a stable internet connection, he can manage.
He is also a philanthropist. Social responsibility is the guiding principle of the Villar Social Institute for Poverty Alleviation and Governance(SIPAG), a non-stock, non-profit organization established in 1995. Since its inception, Villar SIPAG has initiated, implemented, and supported various projects aimed at improving the quality of life of the people in the communities where we live and maintain a business presence.
One of Villar SIPAG's earliest programs was 'Pagtatanim Para Sa Kinabukasan', a tree-planting program, to create urban forests in open spaces of subdivisions, residential communities, and schools.
Over the years, its advocacies and beneficiaries have expanded and diversified in order to reach more people and sectors of the society. These include the poor and underprivileged; overseas Filipino workers and their families; the youth; women; the church; the environment among others.
Villar SIPAG's programs and projects include (but are not limited to) nutrition caravan (regular feeding programs for schoolchildren); medical and dental missions; river rehabilitation program; religious projects such as building of churches; repatriation of distressed overseas Filipino workers; livelihood and entrepreneurship.
By sharing its resources with the Filipino the organization promised to strive to provide opportunities to the underprivileged and the economically disadvantaged, for them to rise beyond their limitations and pursue meaningful lives as productive members of society.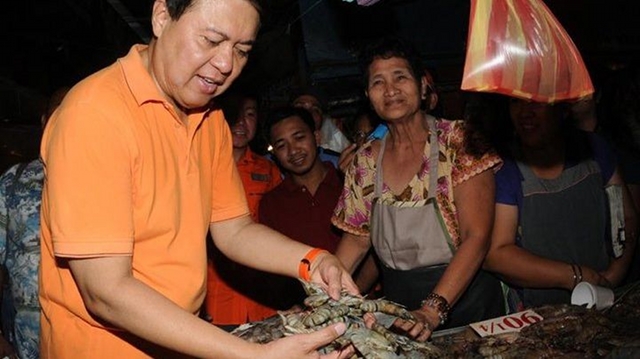 You don't let anyone or any situations dictate who you want to be. Manny started as a fish vendor, an employee, businessman, congress, and senate, a real life-changing story from a successful businessman. He believes that by hard and perseverance, you can shape your own future.
Manny Villar is a story of an ordinary Filipino man who never fails to dream and make his dream a reality, who works hard for his success and persevere in what he believes can bring him a fortune.

Source: PSE; Wikipedia; iFranchise; ManilaStandard; PrimerPH; SCMP Magazine; Inquirer ; SIPAG Foundation ; Philstar
---
*The owner of StockBytes PH is a licensed stockbroker, contact us if you want to open a broker-assisted or online account.
Ready to start your financial journey? email us at [email protected] or follow our social media account and join our groups, Cheers!