Edgar 'Injap' Sia II was born in Iloilo City in 1977 and grew up in Roxas City, Capiz province. He is the eldest of three siblings. Despite Injap being a true-blue provincial guy and unfamiliar with the complexities of the big business environment of the Philippine capital, he made sure he is able to learn and adapt fast. In 2011, Sia become the youngest billionaire in the Philippines at the age of 34 after selling his 70% stake in Mang Inasal to Jollibee Foods Corp.
He had his elementary, high school, and college education all in the province. He originally planned to become an architect but then dropped out of college (University of San Agustin in Iloilo City) to focus more on his business, but he strongly believed that his provincial background having the grassroots knowledge that he learned on the ground can become his advantage.
Sia co-founded the barbecue chain Mang Inasal in Iloilo City in 2003.In seven years, Mang Inasal grew to 338 branches nationwide, before being acquired by Jollibee in 2010.
In 2009, Sia founded Injap Land Corporation (now DoubleDragon Properties Corporation), developer of CityMall chain of malls. In 2014, DoubleDragon Properties became a public company. He also listed his own grocer Merrymart Consumer Corp this 2020 in the Philippine Stock Exchange.
Mang Inasal
At 26 years of age in 2003, he started from scratch the fast-food chain Mang Inasal and grew it from a humble branch in Iloilo City to 338 branches nationwide within the first seven years of operations. It was at this point in October 2010 that Jollibee Foods Corporation acquired 70% of Mang Inasal for p3 Billion Pesos ($68m USD), and in April 2016 he sold the remaining 30% of Mang Inasal to Jollibee for p2 Billion Pesos ($41m USD). Enabling him to cash in a total of p5 Billion pesos ($109m USD) from the Mang Inasal business venture that he started from a simple restaurant.
As a result of his careful planning, clear visions, thorough business design, and passionate execution, Mang Inasal today continues to grow. Mang Inasal remains to be one of the largest and most loved fast-food chains in the country with over 450 stores nationwide and generates over p12 Billion Pesos in system-wide sales revenue and also consistently showing double-digit same-store sales growth year-on-year.
Double Dragon Properties Corp.
In 2009 Sia founded Injap Land Corporation then after two years of fully acquiring Mang Inasal, a partnership between Sia and Caktiong was born. Double Dragon Properties, a real estate company that wants to develop 100 community shopping complexes called City Malls in the smaller cities of Visayas and Mindanao.
Injap having been born in the province in a family operating grocery retail for over 40 years so he has a deep understanding of the retail behavior and economic activity in these provincial areas. It is this understanding and experience that has catapulted DoubleDragon's community mall chain "CityMall" to be the apparent dominant leader in the Philippine community mall industry. The company's other major subsidiaries are DD Meridian Park Development Corp and Hotel of Asia Inc.
Double Dragon Properties was listed in the PSE in 2014 at P2.00 per share with the stock symbol "DD" and it was 14x oversubscribed to based offer. On June 8, 2016, the stock price of $DD skyrocketed to a whooping P80.00 per share all-time high. As I make this blog post $DD is last traded at P60.80 apiece.
On November 23, 2020, the company filed to list DD Meridian Park now DDMP REIT, Inc. as a real estate investment trust or REIT with the Securities and Exchange Commission. Awaiting approval of offer of up to 5,942,488,469 common shares with an over-allotment option of up to 594,248,847 common shares offer price of up to P2.25 per offer share.
MerryMart Consumer Corp.
MerryMart celebrated two milestones last April 29, 2019. The first is the opening of its first supermarket on the Ground Floor of DoubleDragon Plaza, DD Meridian Park, Bay Area, Metro Manila, and the setting of MERRYMART's 12-12-12 Vision 2030. The company aims to cover all the grocery retail categories from the small, medium, and large grocery retail formats.
Injap Investments Inc. is the parent company of MerryMart Grocery Centers Inc. Merrymart has set its 12-12-12 Vision 2030 with the goal of rolling out a total of 1,200 branches nationwide.
"This is going back to our basics. My grandfather started his grocery store in the 1950's in our hometown. My parents as well opened their own grocery business way back in 1989 and have been operating successfully for 30 years and counting. This background gives our family extensive experience in the retail business," said MerryMart Chairman Edgar "Injap" Sia II.
"Our family initially had no plans to expand the grocery business, but our recent experiences made us realize the need for us to be in the modern grocery retail business. Moreover, there are undeniable synergies between the real estate and retail businesses, and in our case, gladly the grocery retail have always been in our blood," Edgar "Injap" Sia II further added.
Merrymart debuted in the PSE June 15, 2020 closed at P1.50 per share 50% higher than its initial offer price of P1.00 apiece and as of December 4, 2020 it was last traded at P6.00 a share 6x than the original offer price.
"Some people may ask, why continue to conduct an IPO in the middle of this pandemic?" he said. "Well, if you really analyze, many of the most successful businesses around the world, was either started during a crisis, or has deepened its market grip during the crisis period. Because actually, during a highly challenging period like where we are now, the large established players' huge size and heaviness, suddenly becomes a disadvantage, and natural to a major crisis comes the repositioning of elements, such as, a major change of customer behavior, which suddenly, the pile of money alone, can not solve.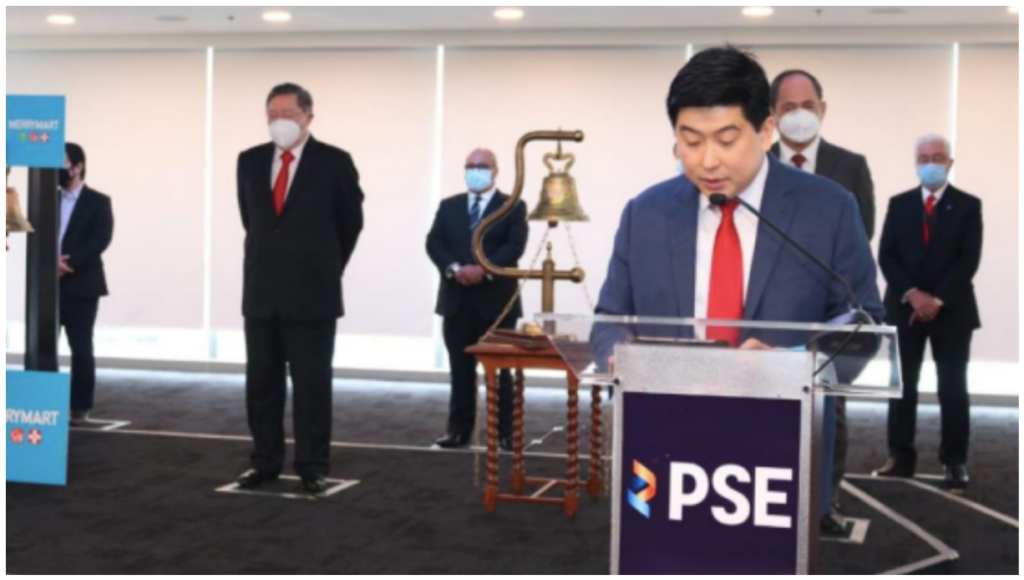 "Here is the abnormal way to do an IPO," he added. "To list when company is still small on its first few years, then bring along investors mostly retail ones, to be with you during the hyper growth years. That way you share the value of the company to tens of thousands of many small other investors that you don't know.
"I believe doing an abnormal IPO is alright. An entrepreneur must not be greedy enough to just share the company when he thinks there is limited growth left for the company to grow in the next 10 to 20 years.
"The abnormal way of doing an IPO is I believe the most inclusive way.
Sia also reminded the audience, which included Finance Secretary Carlos Dominguez and PSE officials, that his other company, DoubleDragon Properties, also listed in the stock exchange during what he called "abnormal" times.
Injap has shown a point that inspires many budding provincial entrepreneurs, that a provincial new player can still succeed in a highly mature market in a short span of time via the old-fashioned way of building a business from scratch as he did in two different and highly competitive fast-food, real estate and grocery industries that are already dominated by many established large big players for many decades.
With all his success, he continuously gives pride to his fellow Ilonggos and Capiznons. He also serves as an inspiration to all the probinsyano entrepreneurs around the country with his continued efforts in giving back to society in various forms such as the donation of the 4-storey Iloilo City Community College Building, the Catholic Parish Church Building in Cagay, Roxas City, the rebuilding of the Public Plaza of Tanauan Leyte, and the Pavillion in Gawad Kalinga Enchanted Farm in Bulacan, among others.
Edgar Sia II Success Story
---
*The owner of StockBytes PH is a licensed stockbroker, contact us if you want to open a broker-assisted or online account.
Ready to start your financial journey? email us at [email protected] or follow our social media account and join our groups, Cheers!