VistaREIT Inc., the real estate investment trust (REIT) company of the Villar group. The company said its final offer price was set at P1.75 per share, 30% lower than the original price of P2.50. Also, the company trimmed the size of its initial public offering from the previous plan to sell 3.34 billion common shares, VistaREIT(VREIT) said it would now sell 2.75 billion shares to the public, which includes an overallotment option of up to 250 million shares. The IPO will run from May 30 to June 3, while the tentative listing date is set for June 15.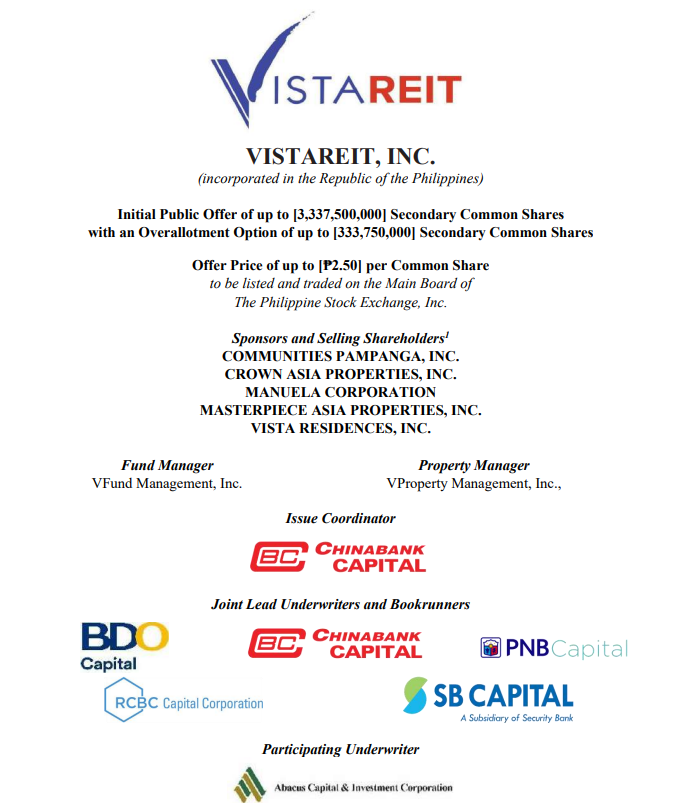 Prospectus download here: https://www.vistareit.com.ph/
The Owner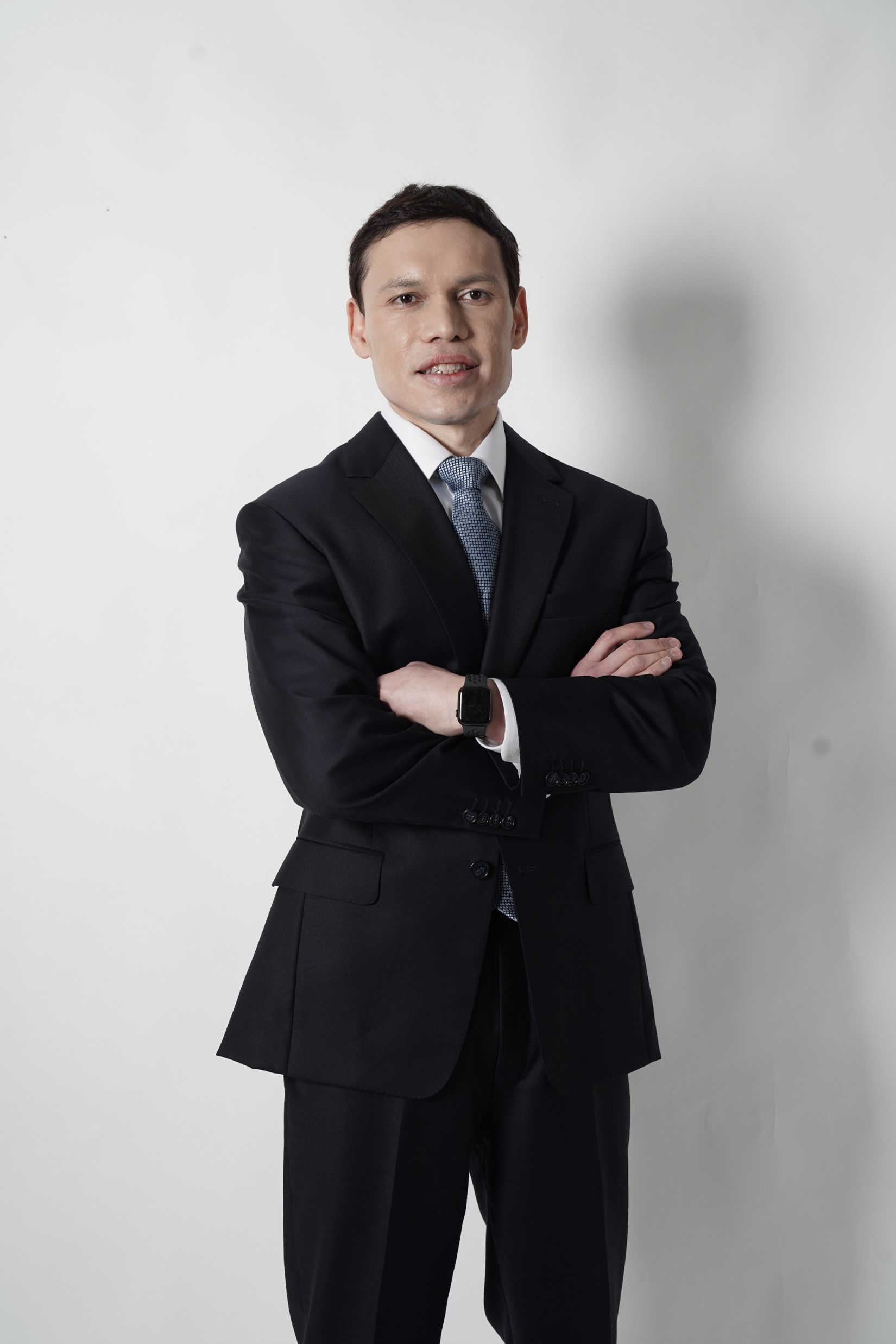 Manuel Paolo A. Villar, Director and President & Chief Executive Officer. Mr. Villar, 45, graduated from the Wharton School of the University of Pennsylvania, Philadelphia, USA with a Bachelor of Science in Economics and Bachelor of Applied Science in 1999. He was an Analyst for McKinsey &Co. in the United States from 1999 to 2001.
He joined Vista Land in 2001 as Head of Corporate Planning and then became its Chief Financial Officer in 2008. He was elected President and Chief Executive Officer of Vista Land and Lifescapes, Inc. in July 2011 and President of Vistamalls, Inc in June 2019. In addition, he is the CEO and Chairman of St. Augustine Gold and Copper Limited and Chairman of TVI Resources Development Philippines, Inc., Powersource Phils Development Corp.  , and the Chairman of Vista Land subsidiaries Camella Homes, Inc., Communities Philippines, Inc., Crown Asia Properties, Inc., Brittany Corporation, Vista Residences, Inc. Mr. Villar also is the majority shareholder of Prime Asset Ventures, Inc., director of Fine Properties, Inc.
The Villar Group has diversified investments in the real estate, retail, utilities, food, and finance industries. A key growth area is the Villar Group's expanding retail ecosystem. As part of the Villar Group, the Company realizes valuable synergies with the Villar Group's retail ecosystem, which include publicly-listed AllHome and AllDay, and popular retail concepts such as Coffee Project, KinderCity, and Vista Cinemas. Lease contracts with related party tenants are done on an arms-length basis.
The Company
Vista Land is one of the leading integrated property developers in the Philippines and the largest homebuilder in the country with a presence in more than 147 cities and municipalities and a land bank of approximately 3,000 hectares as of December 31, 2021, located in areas in proximity to major roads and primary infrastructure.
Since it commenced operations in 1977, Vista Land has built over 400,000 homes. It believes that it is one of the few leading integrated property developers in the Philippines that is focused on the affordable market. In addition to providing a wide range of housing products to its customers across all income segments through its residential property development business, Vista Land is involved in commercial property development through its retail malls and BPO commercial centers. As of December 31, 2021, Vista Land has a total of 1,588,694 sqm of GFA of investment properties comprising of 31 malls, 7 office buildings and 69 commercial centers.
Vista Land subsequently expanded into the development and sale of vertical residential projects, including low-rise to high-rise condominium developments. Vista Land harnesses over 40 years of professional expertise in residential real estate development and believes it has established a nationwide presence, superior brand recognition and proven track record in homebuilding. Its projects include communicities and stand-alone residential subdivisions which offer lots, house and lots and condominium units to customers in the affordable, upper mid-cost and high-end market segments.
Masterpiece Asia Properties, Inc. and Manuela Corporation are both engaged in the operation and development of commercial properties for lease. Vista Land owns MAPI and Manuela through Vista Malls, Inc., its retail mall and BPO platform. As of the date of this REIT Plan, the Sponsors own, in the aggregate, 99.93% of our total issued and outstanding capital stock as follows:

Properties:
VREIT's initial Portfolio consists of 12 Properties with an aggregate GLA of 256,403.95 sqm as of December 31, 2021 and an aggregate appraised value of ₱35,952.99 million based on the Valuation Report issued by Asian Appraisal Company, Inc. The community malls are located in Las Piñas City, Metro Manila; Bacoor City, Cavite; General Trias City, Cavite, Imus City, Cavite; Municipality of Tanza, Cavite; Antipolo City, Rizal; City of San Jose Del Monte, Bulacan; San Fernando City, Pampanga; and Talisay City, Cebu. Our office buildings are located in Taguig City, Metro Manila, and Bacoor City, Cavite. The value of the parcels of land where the buildings are situated was not included in the value of the Properties. Only the value of the buildings was considered and the terminal value considered in the valuation pertains only to the buildings.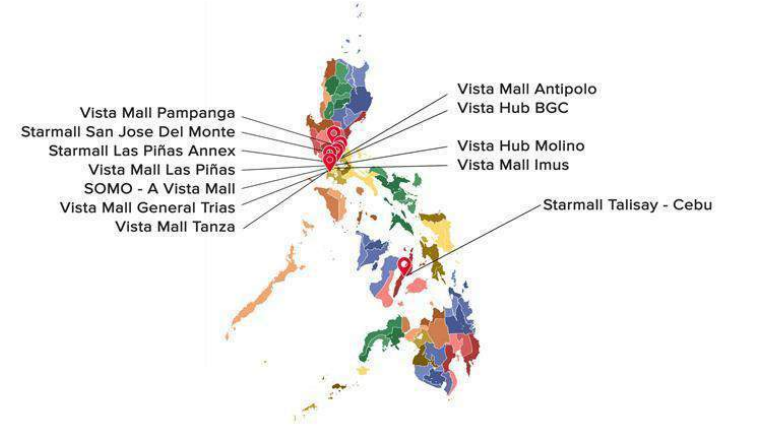 Summary
With the past performance of Villar group IPOs, investors are a little skeptical of this IPO but we need to understand that this is a REIT offering. VREIT priced its IPO at Php1.75/sh, analysts estimate its FY22 annualized yield is 8.25%, based on Php0.10/sh dividends from May-Dec earnings which makes an 8.25% vs the 6.2% average yield of existing REITs. Its price also implies a market cap of Php13bn vs the appraised net value of its assets (NAV) at Php36bn. This implies a discount to NAV of 64%, deeper than the 8.1% average discount of existing REITs.
VREIT said it may acquire Worldwide Corporate Center (WCC), known as the office bldg of CNN Philippines. It also has long-time BPO and retail tenants, bringing total occupancy to 97%. With a total area of 118k sqm, WCC may add 30% to VREIT's current 256k sqm in leasable area. When you buy a property REIT all you need to look at are the properties it owns and its tenants which in the case of VREIT is mostly malls. Emotions aside, if you look at the prospectus I believe this is a decent REIT offering given the huge discount that the Villar group gave from P2.50 to P1.75.
---
Trade Stocks: https://gtrade.ph/
Trade Crypto: https://www.binance.com/en/futures/ref/stockbytesph
Get a 10% discount on Binance trading fees: BNWCMBAU