Allday Marts, Inc.'s upcoming P6.03-billion initial public offering (IPO) is seen to benefit from the upcoming holiday season. Allday's offer period starts on Oct. 18 and will run until Oct. 25, while its market debut is set for Nov. 3 under the ticker symbol, "ALLDY." Priced its initial public offering at 0.60 pesos per share, 25% lower than the maximum indicative price, adding to signs of waning investor appetite in one of the hottest IPO markets in Southeast Asia.
AllDay Marts, Inc. is the fastest-growing supermarket operator in the Philippines and a leading player in the mid-premium supermarket segment, according to GlobalData. The company provides Filipino consumers an elevated, modern grocery shopping experience with our innovative solutions and dual-format business model.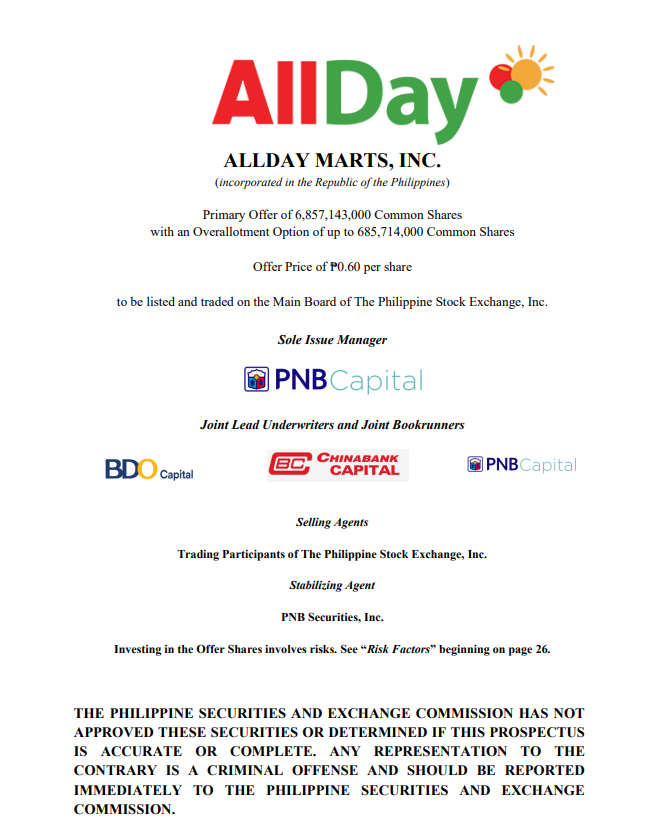 Final Prospectus Download: https://corporate.allday.com.ph/prospectus/
Allday IPO Review

The Owners
All Day Marts is a division of All Value Holdings Inc., a subsidiary of MBV Group of Companies owned by a Filipino entrepreneur and a former senator Manny Villar. Through the real estate mogul's hard work, perseverance, and a knack for business learned from his mother, he became one of the country's richest men. Manny Villar Story embodies "Sipag at Tyaga", not only a famous campaign tagline for former Senator Manny Villar but the key to his success. Read more: Manny Villar Success Story.
Members of the Villar Family have been and are currently involved in Philippine politics. Manuel B. Villar, Jr., patriarch of the Villar Family was a Senator of the Philippines who also ran for President in the May 2010 elections. Although Manuel B. Villar, Jr. is no longer a Senator, his wife Cynthia is an incumbent Senator.
Their son, Mark Villar, currently serves as the Secretary of the Department of Public Works and Highways while their daughter, Camille Villar, is a Congresswoman, representing Las Piñas City. Given the Villar family's involvement in politics, allegations of conflicts of interest, improper influence, or corruption on the part of members of the Villar Family may have an adverse effect on the Company's business and goodwill.
Ms. Camille A. Villar has been managing all the retail business operations of the Villar Group under AllValue, and together with our Chairman has overseen the rapid growth and expansion of the AllValue group of companies over the last eight years.
A key achievement in this period of growth is the success of AllHome, the country's pioneering one-stop full-line home center – as of June 30, 2021, it has a total of 55 stores which is more than double the number of its stores when it was publicly listed in 2019. It is currently maintaining a track record of growth and profitability.
The Company
AllDay Supermarket is not just your ordinary supermarket. With bright and thoughtfully designed interiors, spacious aisles, and well-ventilated stores, AllDay Supermarket is redefining the grocery shopping experience for Filipinos. The produce, meat, and poultry sections are always stocked with certified fresh products. Aside from the always-fresh goods, AllDay also has a wide collection of gourmet deli and cheeses and a whole section dedicated to imported goods from all over the globe.
AllDay Supermarket also has more food options through Gastroville where delicacies from all over the country and the world can be sampled and its Paluto section where you can choose fresh ingredients and have them cooked the way you want in true dampa-style fashion.
From 2017 up to the present, AllDay Supermarket opened 33 stores, including locations in Molino, Kawit, two locations in Las Pinas, Libis, Pampanga, Global South, Naga, Iloilo, General Trias, and Tanza, Evia, Starmall Alabang, Malolos, Dasmarinas, and North Molino, Imus, Salawag, Silang, Santiago, Cabanatuan, Sta. Maria and Talisay.
All Day Supermarket was first established in 2014 as 'All Day Convenience Store'. From being a convenience store, it was developed into a minimart, 'All Day Mart', located at Starmall Prima Taguig in May 2015. Through careful planning and execution, its 13 stores soon grew as a supermarket and were finally branded as AllDay Supermarket a year later. From its inception up to the present, All Day Supermarket has successfully opened 32 stores in Molino, Kawit, Las Pinas, Libis, Pampanga, Global South, Naga, Iloilo, General Trias, Tanza, Evia, Starmall Alabang, Malolos, Dasmarinas, and North Molino.
Digital innovation is the foundation of our in-store business model. Allday is the first to introduce self-checkout kiosks to improve health and safety protocols and allows our customers to observe social distancing measures in our stores. They have also launched the Personal Shopper Service which allows our customers to simply send their orders through our dedicated hotlines for fulfillment and delivery direct to their homes.
Summary
Allday will use a huge piece of its proceeds to retire its P4.103 million high-cost debt, which was obtained to fund its previous and ongoing expansion. The remaining portion will be used to partly fund ALLDY's footprint expansion.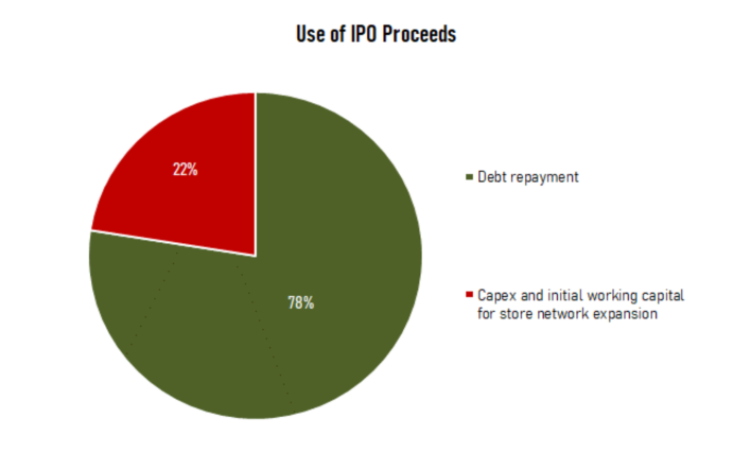 The supermarket industry is dominated by well-established names like Puregold, SM Supermarket, and Robinsons Retail. These retailers alone hold more than half of the market share of the whole local supermarkets. Focusing on the mid-premium segment of the supermarkets, four firms come to light.
The company appears to be cheaper than MerryMart in terms of price, while also being more profitable. Now, possibly investors are placing a huge premium on Injap Sia himself, or on his grand plan to develop MerryMart into a giant grocer by 2030, which depends on strategic locations, logistics, and fintech. The figures and pricing provided by Allday unquestionably make MerryMart seem over-priced in comparison.
Allday is fairly valued as its equity returns are projected to be better than the index's historical averages. In terms of the Price-Earnings (P/E) ratio, the firm is cheaper than the services sector but more expensive than the PSEi.
Allday and MerryMart are still relatively small, being new players. However, it can be noted that ALLDY and MM are taking some share from the bigger players in the mid-premium supermarket. In 2020, ALLDY's segment share was 9.5% from 6.9%, while MM's share rose to 4.1% from 3.4% in 2019.
---
Trade Stocks: https://gtrade.ph/
Trade Crypto: https://www.binance.com/en/futures/ref/stockbytesph
Get a 10% discount on Binance trading fees: BNWCMBAU
*The owner of StockBytes PH is a licensed Stockbroker and Financial Advisor, contact us if you want to open an account and start investing in stocks.
Ready to start your financial journey? email us at [email protected] or follow our social media account and join our groups, Cheers!