The family of singer Jose Mari Chan got an early Christmas gift as the Securities and Exchange Commission(SEC) approved the P558 million initial public offering of Central Azucarera de San Antonio(CASA). CASA plans to sell a total of 277,500 shares, consisting of 214,571 primary shares and 62,929 secondary shares at a price of P2,012.52 each with a par value of P1,000 per share.
CASA is incorporated and domiciled in the Republic of the Philippines. Its primary place of business is at Unit 502, 5th Floor, Legaspi Towers 200, 107 Paseo de Roxas, Legaspi Village, Barangay San Lorenzo, Makati City, and its sugar milling facilities are located in Passi City, Iloilo.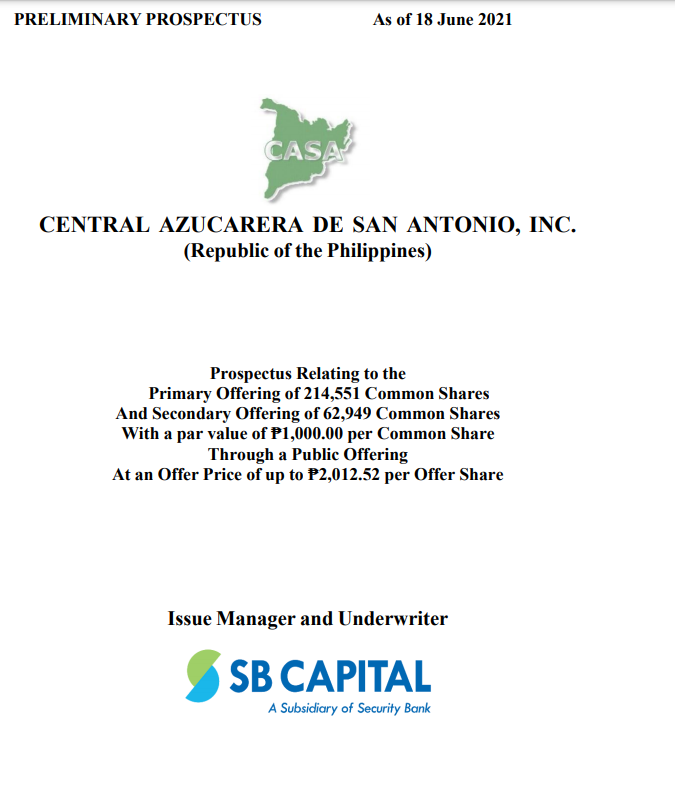 The Company was organized and registered with the SEC on 13 February 2003, primarily to engage in sugar milling operations and to engage in the selling of any by-products generated by its facilities to other entities. The Company started its commercial operations last October 01, 2008. The Company's shareholders are comprised of members of the Chan family.
CASA's primary business is the sugar milling business with its facilities churning up to 8,000 tons of cane per day. It is also engaged in power generation through a biomass co-generation plant with an initial installed generation capacity of 15 megawatts. SB Capital Investment Corp. is the issue manager and underwriter for the offer.
Net proceeds from the offering amounting to P422.72 million will be used to upgrade the company's cogeneration facility (P115 million), motor pool (P85.8 million), and sugar factory (44 million) as well as for farm mechanization (P88.5 million) and land acquisition (P88.5 million).
In addition to the shares to be sold on a primary basis, a total of 62,949 Common Shares will be sold on a secondary basis by some of the existing shareholders of the Company on the same terms and conditions as those to be subscribed on a primary basis.
Source: Prospectus ; Bilyonaryo
---
Trade Stocks: https://gtrade.ph/
Trade Crypto: https://www.binance.com/en/futures/ref/stockbytesph
Get a 10% discount on Binance trading fees: BNWCMBAU
*The owner of StockBytes PH is a licensed Stockbroker and Financial Advisor, contact us if you want to open an account and start investing in stocks.
Ready to start your financial journey? email us at [email protected] or follow our social media account and join our groups, Cheers!