Billionaire Tesla CEO Elon Musk appeared on "Saturday Night Live" on May 8, 2021, after having tweeted about cryptocurrency Dogecoin for months. Since that appearance, the digital asset is down nearly 80%. Dogecoin's value plummeted instantly after. Investors figured that whatever happened on the show was probably not great for the investment.
Originally created in 2013 as a joke, Dogecoin suddenly became worth real money on crypto exchanges as Musk began getting behind it on social media. The Tesla and SpaceX founder had won the hearts of many viral investors during the GameStop saga, and even though many figured he was touting doge ironically, the attention he bestowed on it resulted in gains. Buying a coin as a joke is, after all, still buying a coin.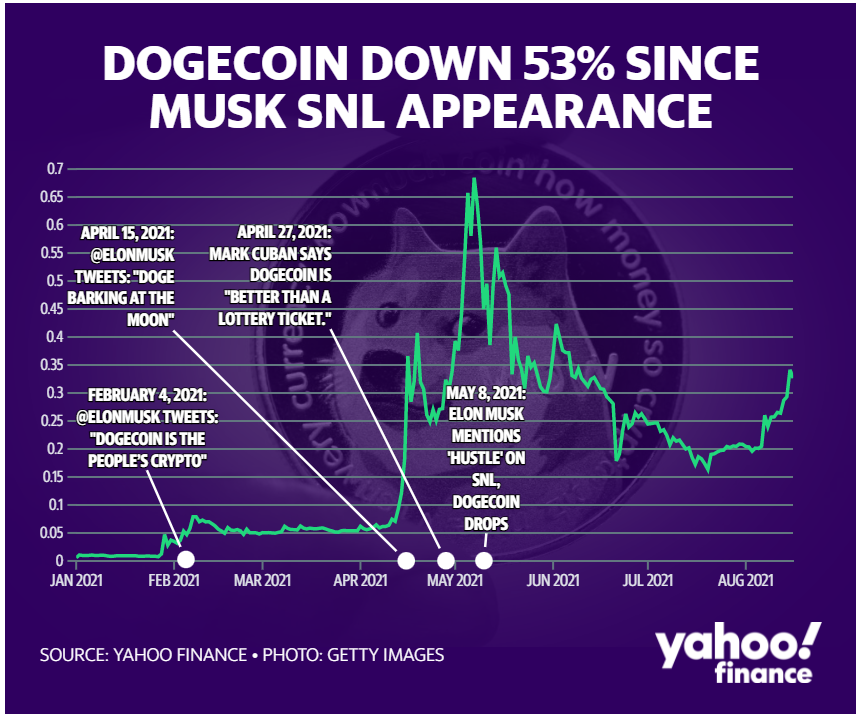 Dogecoin's value peaked right before the show aired on the anticipation that Musk, who had become known as a doge bull, might plug the coin, sending it higher, or "to the moon." Some investors, however, are still very much all in as believers, even though the dogecoin's founder has disowned the coin. 
The Bitcoin price has fallen sharply over the last months, losing around 25% of its value and hitting the price of Ethereum and most other major cryptocurrencies—including the meme-based dogecoin.
---
Trade Stocks: https://gtrade.ph/
Trade Crypto: https://www.binance.com/en/futures/ref/stockbytesph
Get a 10% discount on Binance trading fees: BNWCMBAU
*The owner of StockBytes PH is a licensed Stockbroker and Financial Advisor, contact us if you want to open an account and start investing in stocks.
Ready to start your financial journey? email us at [email protected] or follow our social media account and join our groups, Cheers!