Axie Infinity is currently the fastest-growing blockchain game in the country, mostly because users can earn money just by playing the game. A lot of Filipinos are engaged with online gaming because people are stuck at home due to the pandemic.
What is Axie Infinity?
Axie Infinity at its core is a digital pet universe very similar to Pokemon with a touch of blockchain-like Cryptokitties. Players raise their fantasy creatures called Axies, with the goal of upgrading their attributes to make them better when it comes to battles. Axie is a blockchain-based game, meaning Axies and items are non-fungible tokens (NFTs).
The Axie universe contains two native protocol tokens: AXS and SLP. Axie Infinity Shards (AXS) is a governance token, enabling holders to decide how to use the community treasure funds. Whereas, Small Love Potions (SLP) are required if you are trying to breed more Axies. Now SLP is an ERC20 token that is listed on Uniswap. Because you can earn SLP tokens just by playing the game, there are a large number of players who just play to earn SLP and sell them on Uniswap.
To buy or sell, you can find both tokens traded on Binance, and it is possible to trade AXS with leverage.
The big money is in the breeding and rarity of the Axies. Yes, you can breed and sell your Axie team too! The greater the stats of the team the more you can sell it.
Now to help you decide about getting into the Axie hype or not.
Pros and Cons of the Axie hype.
Pros. You can make actual money by playing the game because you can sell the SLP reward to the market and if you have a great team you can breed them and sell your extra Axies. If you happen to get into the top tier rankings the rewards are awesome.
Well, just like any game you need to master it in order to get the rewards it offers and you need to spend a lot of time playing it, so if you have a day job or busy with your business better forget about Axies unless you just want to experience playing the game.
Scholars – some individuals are buying Axie teams and having other people play the game in exchange for a percentage of the rewards or earnings from the game.
Cons. If you are banned, your account is gone for life. Since the game is run by an actual company if they find you cheating or playing multiple accounts using one wallet you could be easily banned. The hype! Prices of Axie teams and SLP are to the roof on social media, some people are taking advantage of beginners and selling Axie teams at unreasonable prices.
Hacks, since rewards are stored in crypto-wallets it can be stolen if you are not careful. Only transact with people you truly trust.
Price volatility, all cryptocurrencies are subject to price volatility. Meaning, you could be earning ₱30k (150 SLP per day rate) a month per account today, but it could also become as low as ₱4.5k a month when SLP crashes to 1 peso like how much it was only a few months ago. Or worse, even lower.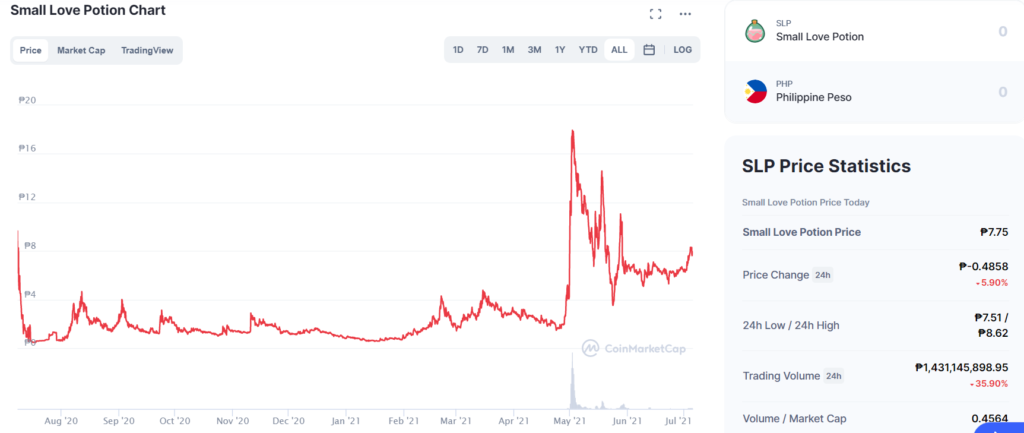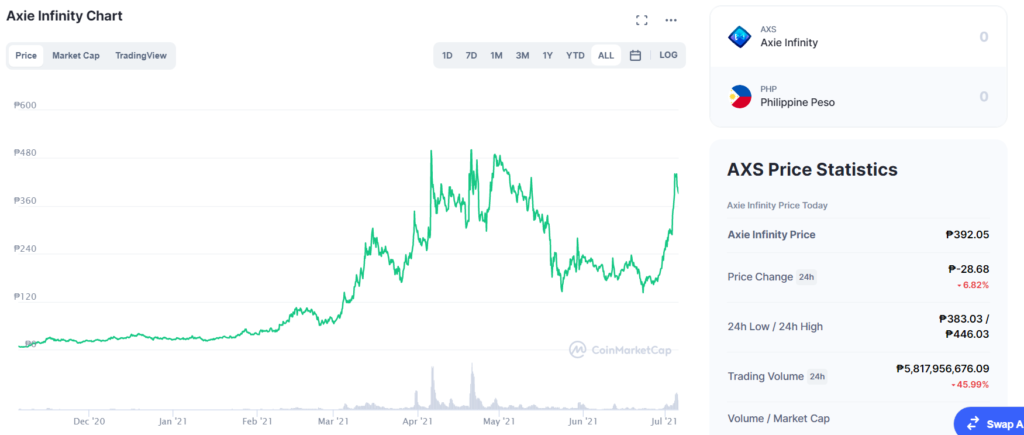 Good or Bad Investment?
I've seen people getting burned on bad crypto investments like Dogecoin, Bitconnect, ICO scams, and other crypto-related scams. For the past two weeks, I've been receiving dozens of questions about Axie Infinity. Is it a Good Investment? Well, short answer. No. We cannot really know for sure how long will Axie Infinity last and the price of SLP and AXS are very volatile just like any other Altcoins plus it is not secured or governed properly. If a lot of people will play it, then Axies have value, if the community or the Devs decides to shut it down your hard-earned SLPs and Axie teams' value can go zero(very unlikely but there's a chance).
I'm not against the game, in fact, I was about to buy an Axie team of my own but decided I'd rather put my money on stocks where I can earn dividends without doing anything. I've been in crypto since 2017 and I have seen hypes come and go, just a couple of months ago we got Dogecoin hype now the Axie Infinity hype.
In terms of gaming, this is really good. I mean, aside from streaming and getting supporters you can actually sell in-game rewards! The future of NFT games looks very promising.
Summary
I support cryptocurrency and I believe these assets are here to stay. What I am against is people losing money because of investing in things that they do not fully understand and the hype going on in social media, people taking advantage of beginners, I even read people quitting their jobs to play Axie Infinity full time. It is crazy!
If you don't know about cryptocurrencies I suggest staying away from Axie, on the other hand, if you are well versed with the crypto world and a gamer at heart then Axie Infinity and NFTs are a good way to earn actual money while playing games.
*I happen to personally know these guys from Cabanatuan City. So if you are decided on getting into Axie Infinity you can get quality teams and learn from them, I believe they are the top players in the country: Axie University
---
Trade Stocks: https://gtrade.ph/
Trade Crypto: https://www.binance.com/en/futures/ref/stockbytesph
Get a 10% discount on Binance trading fees: BNWCMBAU
*The owner of StockBytes PH is a licensed Stockbroker and Financial Advisor, contact us if you want to open an account and start investing in stocks.
Ready to start your financial journey? email us at [email protected] or follow our social media account and join our groups, Cheers!