Philippines' Bank of Commerce priced its initial public offering at 12 pesos per share on Friday, the company said in a stock exchange filing, making it the first lender to list on the stock exchange in nine years. The bank, owned by conglomerate San Miguel Corp, will raise 3.37 billion pesos ($64.45 million) the third initial public offering this year. Price guidance and maximum filing price were up to 12.50 apiece, with listing set on March 31.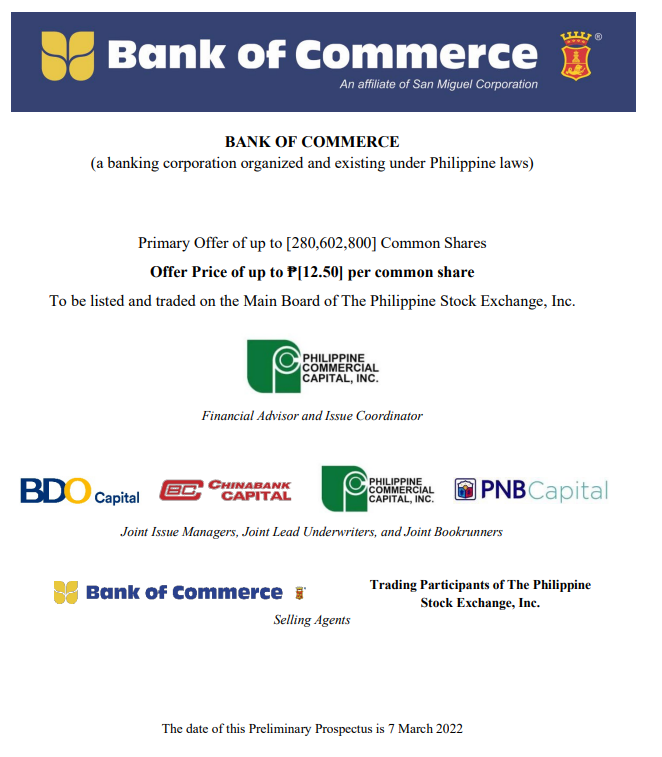 Prospectus Download link: https://www.bankcom.com.ph/company-prospectus/
According to the latest timetable submitted to the SEC, Bank of Commerce plans to conduct its IPO from March 16 to 22, while its listing at the main board of the Philippine Stock Exchange is slated for March 31.
Proceeds from Bank of Commerce's IPO will be used to fund its lending activities, acquisition of investment securities, and to finance capital expenditure requirements, which involve upgrading its ATM fleet and its core banking system. As of Sept. 30, 2021, Bank of Commerce had 140 branches and 257 ATMs.
The company tapped BDO Capital & Investment Corp., China Bank Capital Corp., Philippine Commercial Capital, Inc. (PCCI), and PNB Capital Investment Corp. as joint issue managers, joint lead underwriters, and joint book-runners for the offer.
The Management
Bank of Commerce, an affiliate of San Miguel Corporation, announces the appointment of Mr. Michelangelo R. Aguilar as its new President and CEO and a member of the Bank's Board, effective July 16, 2018.
President and CEO Aguilar took over the post vacated by Roberto C. Benares, who was in turn appointed as a Board director.
The Bank's President and CEO brings over 35 years of banking experience in the areas of Corporate Banking, Global Markets, and Treasury. He has previously served as the Executive Vice President & Head of RCBC's Corporate Banking Group, and a Director of RCBC Leasing & Rental Corporation. Prior to that, Mr. Aguilar was the Managing Director and Head of the Origination & Client Coverage Unit of the Wholesale Banking Group, and Global Markets Country Head of Standard Chartered Bank. He has also been the Senior Vice President and Treasurer at Solidbank Corporation and an Asset Redeployment Coordinator at Citibank NA.
Former CEO , Mr. Roberto C. Benares has been elected as member of the Board of Directors of the Bank since 30 April 2013. He assumed his position as President and CEO of Bank of Commerce on 1 August 2013 and was succeeded by Mr. Michelangelo R. Aguilar on 16 July 2018. He currently sits as Director and chairs the Information TechnologySteering Committee (ITSC). He is also a member of the Board Risk Oversight Committee (BROC). During his tenure as President and CEO, he took the lead in strengthening the Bank by framing its superior service culture to achieve its recent milestones.

Previously, Mr. Benares was the Managing Director of Maybank ATR Kim Eng Capital Partners, Inc. He started his banking career at Bancom Development Corp. as Assistant Treasurer prior to holding the position of Vice President of Account Management at United Coconut Planters Bank. He also served as Managing Director at Asian Alliance and Executive Vice President at Insular Investment & Trust Corporation, and Vice President atPhilamlife.
The Company
Bank of Commerce (BankCom) is one of the country's progressive universal banks and is licensed by the Bangko Sentral ng Pilipinas (BSP). The Bank has been operating since 1963 and traces its origins to the Overseas Bank of Manila with headquarters in Binondo, Manila. In 2008, Bank of Commerce became an affiliate of San Miguel Corporation and introduced its new logo bearing the SMC escudo. In December 2020, the Intellectual Property Office (IPO) granted the copyright license for "BankCom" as the Bank's official short name.
Bank of Commerce provides innovative banking solutions and a complete range of products and services in deposit, commercial loans, credit card services, consumer banking, corporate banking, treasury, asset management, transaction banking, and trust and investments. In terms of service reach, the Bank has online banking facilities for retail and corporate clients, BankCom and BankCom, respectively, and a new mobile banking app, to encourage consumers and corporate clients to transact regular banking services such as bills payment, fund transfers, card loading, and other services via these online banking platforms. The Bank has a network of 140 branches and 261 automated teller machines (ATMs) strategically located nationwide.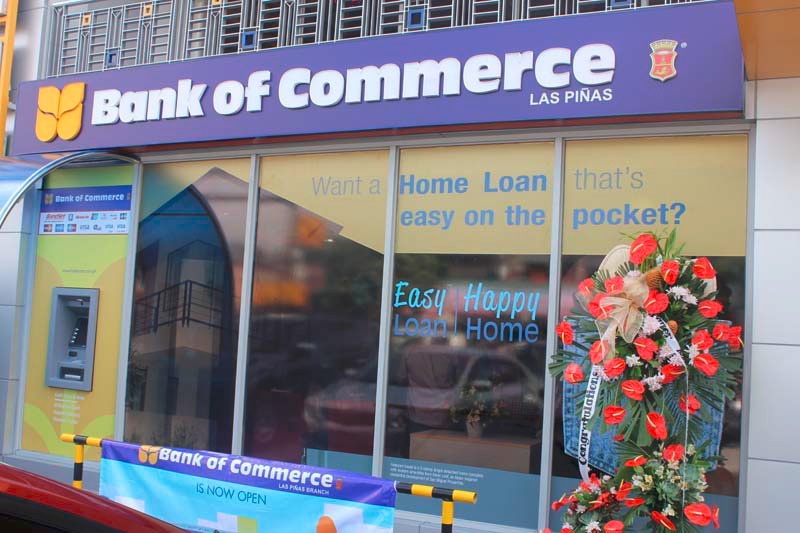 For the year ended 2020, the Bank registered a net income of PHP784.4 million. Total assets grew to PHP170.9 billion, with net loans and receivables at PHP71.6 billion. Deposits grew to PHP149.1 billion.
As of March 2021, BankCom was the 16th largest bank in the Philippines in terms of assets and 17th in terms of capital.
Summary
Bank of Commerce is one of the country's fast-growing commercial banks. The Bank has been operating since 1963. In 2008, San Miguel Corporation ($SMC) bought into the Bank and became a majority stakeholder through the combined voting stake of San Miguel Corporation Retirement Fund and San Miguel Properties, Inc. in the Bank.
The refreshed capital and management resulted in strengthened banking operations, systems, and services, and reinforced the Bank's stability. The Bank provides innovative banking solutions and a complete range of products and services in deposit, commercial loans, credit card services, consumer banking, transaction banking, corporate banking, treasury, asset management, trust, and investments.
In terms of service reach, the Bank has retail and corporate internet banking facilities, 140 branches, and 257 automated teller machines ("ATMs") strategically located nationwide as of 30 September 2021.
With Ramon Ang's San Miguel empire and experienced management, I believe the company has a robust foundation. Despite the COVID-19 pandemic, the Bank recorded a net income of ₱625.7 million for the nine-months ended30 September 2021 compared to 30 September 2020 of ₱495.3 million. This was driven by a higher net interest income which grew by 7.21% to ₱3.99 billion due to lower funding costs as interest expenses declined. Revenues from the sale of foreclosed assets increased from ₱50.8 million to ₱231.0 million with the partial re-opening of the economy. Our publicly listed banks are performing well despite the pandemic with the help of the BSP so I think there is definitely a demand for this IPO.
---
Trade Stocks: https://gtrade.ph/
Trade Crypto: https://www.binance.com/en/futures/ref/stockbytesph
Get a 10% discount on Binance trading fees: BNWCMBAU
*The owner of StockBytes PH is a licensed Stockbroker and Financial Advisor, contact us if you want to open an account and start investing in stocks.
Ready to start your financial journey? email us at [email protected] or follow our social media account and join our groups, Cheers!