Gokongwei-led Robinsons Land Corp. is preparing the country's largest real estate investment trust (REIT), RL Commercial REIT(RCR) for its listing in the Philippine Stock Exchange (PSE) on September 14.
At the IPO price of P6.45 per share, RCR will potentially have the largest market cap among existing and upcoming disclosed REITs at a P64.2 billion market cap compared to DDMP REIT's (DDMPR) P40.1 billion, AREIT's P27.7 billion, and Filinvest REIT's (FILRT) P34.2 billion. At the IPO price, the projected dividend yield of RCR is 5.96% with the 2022E.
REIT is a type of investment instrument that provides a return to investors derived from the rental income of the underlying real estate asset. The public will have access to the REITs through the PSE. Read more about REIT.
RCR will have the biggest portfolio with over 425,000 square meters in the gross leasable area versus AREIT's 344,000, FILRT's 301,000, MREIT's 224,000, and DDMP's 172,000. RCR's properties have the largest total appraised value of PHP 73.9B.
Jericho Go, President and Chief Executive Officer of RCR, said the office leasable area will cater mostly to business process outsourcing (BPO) companies.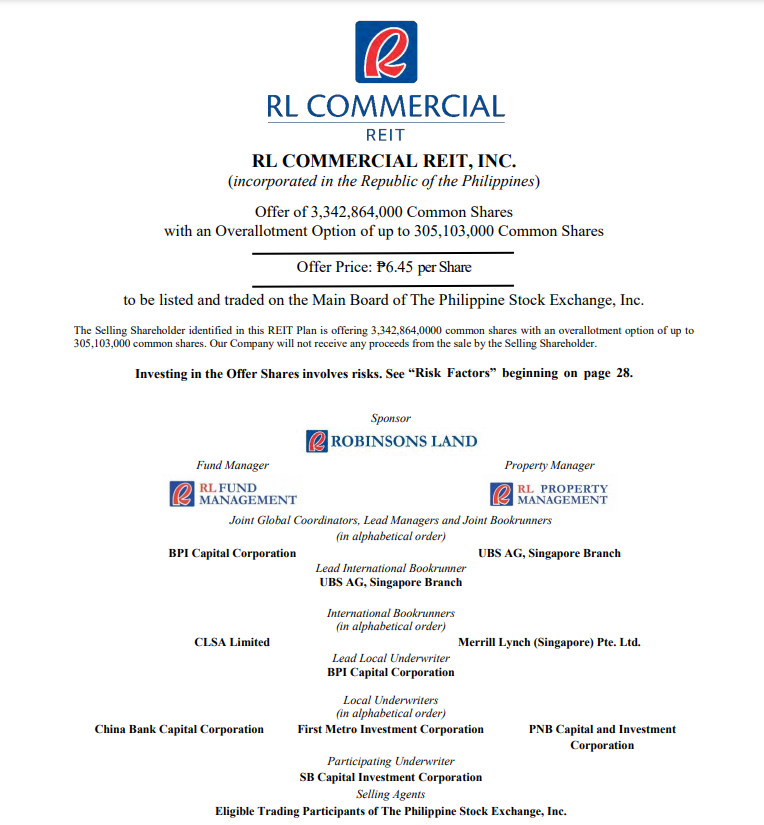 Most Geographically Diverse REIT
The majority of the properties in the RCR's portfolio are in Metro Manila's central business districts (CBD), such as Makati City, Bonifacio Global City, Quezon City, and Mandaluyong City, as well as in the key cities of Naga, Tarlac, Cebu, and Davao. The portfolio's geographic diversity enables the company to benefit from the general Metro Manila office market's strength while minimizing its dependence on any single CBD or submarket. These nine locations show that RCR has the widest geographic diversity in locations, compared to AREIT's five locations, MREIT's three, FILRT's two, and DDMPR in one city.
Stable Income from Long Leases and High-Quality Tenants
RCR's tenant base is mainly in the business process outsourcing (BPO) industry. Given the essential nature of the BPO industry's support operations, BPO offices stayed open during the ECQ and GCQ, ensuring that customers received reliable and continuous service delivery.
As a result, despite the severe economic effect of the COVID-19 pandemic, the BPO sector has remained relatively robust and provides consistent and stable cash flows for the company.
Office tenants account for 89% of leased GLA, with IT-BPM (BPO) tenants accounting for 70% and conventional office tenants for 19%. Moreover, with only 3% of the GLA occupied by the POGOs, the portfolio has one of the least exposure to the industry. RCR's tenants have a weighted average lease of 4.3 years as of June 30, 2021.
Long-Term Sustainability
The company is committed to having eco-friendly properties and values its community. All new buildings in Metro Manila will be LEED (Leadership in Energy and Environmental Design) or BERDE (Building for Ecologically Responsive Design Excellence) Certified. Moreover, two (2) buildings from its portfolio are LEED (Leadership in Energy and Environmental Design) certified, which are Tera Tower and Exxa-Zeta Tower.
The LEED-certified buildings are equipped with energy-efficient features, such as a double-glazed glass façade for reducing the need for cooling and LED lights to reduce power consumption. In addition, during the community quarantine, employees of RLC received Health Kits such as alcohol, gloves, masks, face shield, all-purpose cleaner, food packs, and COVID incentives for reporting employees.
The Properties
The company's property portfolio consists of 14 commercial real estate assets across the Philippines with an aggregate portfolio gross leasable area (GLA) of over 425,000 sqm. As of June 30, 2021, the portfolio has a 99% committed occupancy rate, and the assets are valued at PHP 73.9 billion by Santos Knight Frank.
All the properties in the portfolio are also PEZA-accredited (Philippine Economic Zone Authority) and have consistently high occupancy rates resulting in steady rental revenue. Furthermore, to ensure steady occupancy and revenue from operations, RCR's office tenants are primarily engaged in essential services such as information technology and business process management (IT-BPM), including BPO services.
Moreover, most of the commercial assets included in the portfolio are classified as Grade A assets. Grade A or Prime offices are often newer developments in well-established business areas with superior architecture and high-quality materials.
RCR's land lease contracts where its building stands have an average of 89 years in comparison to FILRT's 75 years, MREIT's 50 years, and AREIT's 37 years while DDMPR owns the land where its assets stand.
Metro Manila Properties:
A. Robinsons Equitable Tower
B. Robinsons Summit Center
C. Cyberscape Alpha
D. Cyberscape Beta
E. Tera Tower
F. Cyber Sigma
G. Exxa-Zeta Tower
H. Cybergate Center Building Leases
Outside Metro Manila:
A. Robinsons Cybergate Cebu
B. Galleria Cebu
C. Luisita BTS 1
D. Cybergate Naga
E. Cybergate Delta 1
RLC and RCR entered into a Memorandum of Understanding for the potential future acquisition of 2 Metro Manila assets: Cyberscape Gamma and Robinsons Cybergate Center 1. Within the next 12 to 18 months, RLC intends to inject 40,000 sqm to 100,000 sqm GLA to grow RCR.
Including Cyberscape Gamma and Robinsons Cybergate Center 1, the sponsor RLC has about 204,000 sqm of GLA in existing office assets. Around 150,000 sqm of GLA in offices are in various stages of construction while the estimated 68,000 sqm of GLA in BPO-occupied spaces
in RLC malls may form part of the acquisition pipeline for the company, provided they are in line with their investment criteria. In total, RCR has a pipeline of approximately 422,000 sqm of GLA for potential acquisition from RLC.
Conclusion
We are confident with Robinsons Land's strength as a sponsor as it is one of the established names in the property sector as they provide a diverse selection of income-producing commercial property assets, leased largely for office operations, and strategically placed in major central business districts, major towns, and metropolitan regions around the Philippines. RLC's leasing portfolio comprises of 52 lifestyle malls, 25 office developments, 5 co-working or flexible working centers, 19 mixed-use developments, 20 hotels, and 4 industrial facilities.
We prefer RCR to AREIT because of the former's asset quality and slightly higher yield. It's also a very attractive REIT considering the properties that will be injected into the company which is mostly Grade A offices with PEZA accreditations making the buildings attractive to BPO locators. In terms of location, the buildings are situated in prime growth areas in NCR namely, Makati City, Bonifacio Global City, Mandaluyong City, and Quezon City, among others.
We recommend investing in RCR given its quality and diverse property portfolio, resilient tenants from the BPO and traditional sectors, and attractive dividend yield. The planned asset infusions and acquisitions could also boost the earnings which may affect RCR's stock price
positively. This could also add to the investor's dividend gains. We believe RCR will not suffer the same fate (like DDMPR's) as tenancy risks are low. Learn more.
---
For more information, join Robinsons REIT Facebook group at https://www.facebook.com/groups/rlcreit..ph
The Final REIT Plan may be accessed at https://bit.ly/RCR_REITOffering
---
Trade Stocks: https://gtrade.ph/
Trade Crypto: https://www.binance.com/en/futures/ref/stockbytesph
Get a 10% discount on Binance trading fees: BNWCMBAU
*The owner of StockBytes PH is a licensed Stockbroker and Financial Advisor, contact us if you want to open an account and start investing in stocks.
Ready to start your financial journey? email us at [email protected] or follow our social media account and join our groups, Cheers!