Monde Nissin Corp has set a final price of 13.50 pesos per share for its initial public offering, putting the Philippine food maker on track to raise $1 billion in the nation's biggest ever first-time share sale. The producer of the Southeast Asian country's best-selling instant noodle brand Lucky Me! is selling 3.6 billion shares at that price, it said in a letter to the local stock exchange on Thursday. That's cheaper than the 17.50 pesos maximum price indicated in its IPO filing.
MONDE is the market leader in several branded consumer food and beverage products in the Philippines. The company has a commanding 68% market share in the instant noodles segment. The company also ranks first in the biscuits segment, including crackers
and cookies, with a total market share of 30.5%. Its portfolio of flagship brands includes Lucky Me!, SkyFlakes, Fita, M.Y. San Grahams, Nissin, Mama Sita's, and Dutch Milk. Note that its instant noodle brand Lucky Me! is the most chosen consumer brand in terms of reach points and is consumed by 98% of Filipino households.
Stock symbol: MONDE
Offer price: Php13.5/share
Market cap – post IPO: Php242.6Bil
Total primary shares offered: 3,600Mil
Over-allotment option: 540Mil
Shares outstanding post-IPO: 17,969Mil
Public float: 23%
Offer period: May 19 – May 25 2021
Listing date: June 1, 2021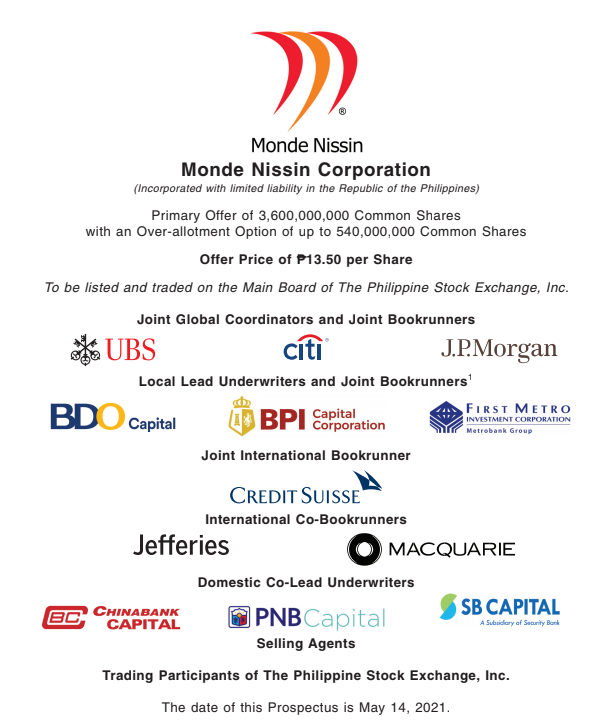 The Company
Monde Nissin Corporation (MONDE) is a leading manufacturer of food-related products in the Philippines with a growing presence in international markets. The company's operations are categorized into two core business sections: (1) Asia-Pacific branded food and beverage business (APAC BFB) and (2) meat alternative business (MAB). APAC BFB is the largest segment of the company, accounting for 78% of revenues and 88% of operating profits. Under APAC BFB, MONDE manufacturers and distributes a mix of instant noodles, biscuits, beverages, baked goods, and culinary aids, among others. Under the MAB business, the company manufactures and distributes market-leading alternative meat brands under Quorn and Cauldron.
The company operates with an aspiration to improve the well-being of people and the planet and create sustainable solutions for food security. These values are reflected in its product innovations and various aspects of its operations that create value to society and contribute to sustainable development. For example, to promote well-being, the Group made an unprecedented move to offer noodles with no artificial preservatives added in Lucky Me! wet pouch and cups. It also made an investment in the development and implementation of the first high-speed airflow technology in one of its Lucky Me! product lines to reduce the palm oil content.
Brands: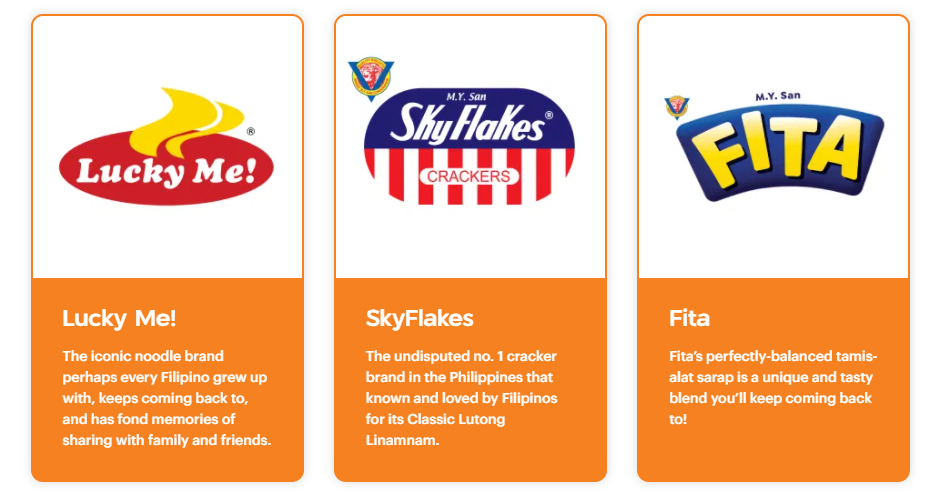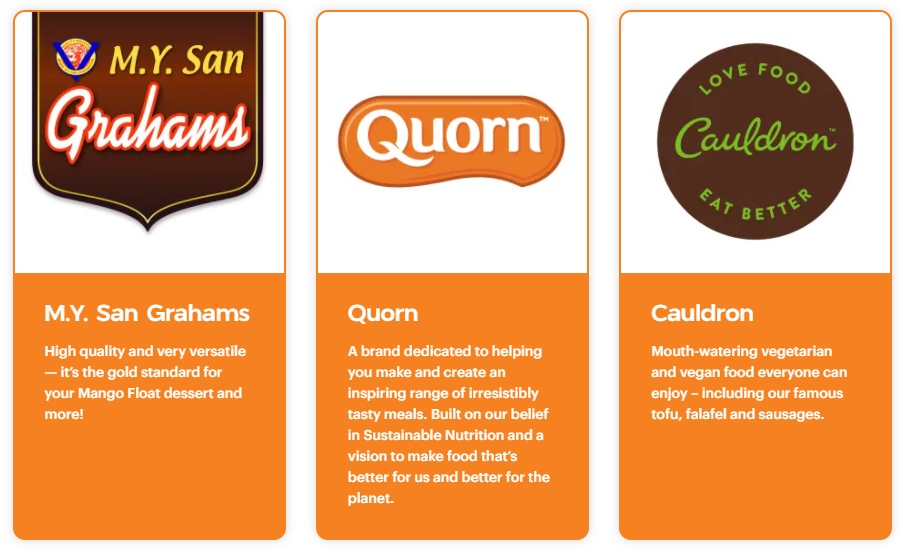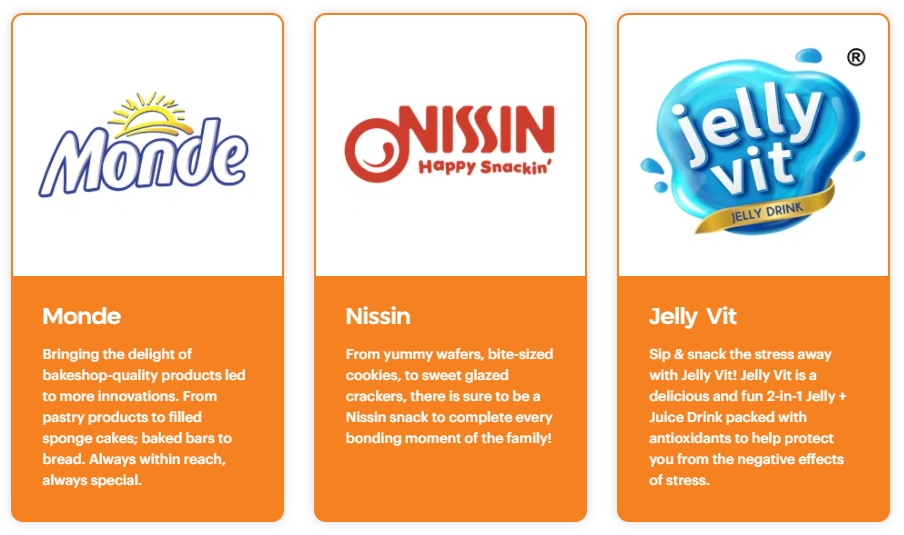 History:
Headquartered in Santa Rosa, Laguna, the Philippines, Monde Nissin was founded by Hidajat Darmono in 1979. It was incorporated as Monde Denmark Nissin Biscuit Corporation and launched its first products Nissin Butter Coconut Biscuits and Nissin Wafers in 1979. Betty Ang, the President and Director of Monde Nissin, makes the Philippines' richest list for the 11th year in a row, but she remains a most elusive and enigmatic tycoon. The company launched Lucky Me! in 1989. In 2015, Monde Nissin acquired Quorn for £550 million, in what was the third-largest overseas purchase by a firm in the Southeast nation at the time of the transaction. In 2019, Monde Nissin also invested in NAMZ Pte. Ltd., a food science company in Singapore that redesigns food, beverage, and personal care products.[6]
By 2020, according to Nielsen, Monde Nissin ranked first in retail sales value in the Philippines in instant noodles and biscuits, as well as oyster sauce and yogurt drinks. In 2020, Monde Nissin's instant noodles, biscuits, yogurt drinks, and oyster sauce constituted 68%, 30.5%, 73.2%, and 56% of retail sales market share in the Philippines, respectively.
The IPO Proceeds:
Approximately 57.4% of the net proceeds from the IPO will be used as capital expenditures to increase the company's manufacturing capacity in both APAC BFB and MAB. Part of this CAPEX will be used for other initiatives to boost operational efficiency such as supply network transformations. For APAC BFB, the proceeds will be spent on key projects including the ongoing construction of a production facility in Malvar, Batangas as well as a new healthy noodles line. Investments in the meat alternative business will be centered on capacity expansion and new product developments and capabilities. The remaining 42.6% of net proceeds will be used to pay off the company's debt obligations. In particular, Php13.4Bil will be used to redeem the convertible note to Arran Investment Pte. Ltd. Meanwhile, the remaining Php6.3Bil from the net proceeds will be used to repay loans to commercial banks.
Ownership:
MONDE is mostly owned by Hartono Kweefanus (29% stake in MONDE), and his family members. Family ownership of MONDE stood at ~91% pre-IPO, including the 2.7% indirect stake through AU Mountain Investments Corporation. Meanwhile, My Crackers, Inc. owns 8.6% of MONDE.
Hartono Kweefanus currently serves as Chairman of the Board and Director. He also serves as chairman of the board of directors of Monde M.Y. San Corporation, PT Khong Guan Biscuit Indonesia, and KBT International Holdings, Inc.; and as director of Monde Land, Inc., Monde Nissin Singapore Pte. Ltd., Monde Nissin International Investments Ltd., Monde Nissin Holdings (Thailand) Ltd., Monde Nissin New Zealand Limited, Suntrak Corporation, Monexco International Ltd., and Monde Nissin (Thailand) Co., Ltd. He graduated from Nanyang University, Singapore where he majored in Industrial and Business Management.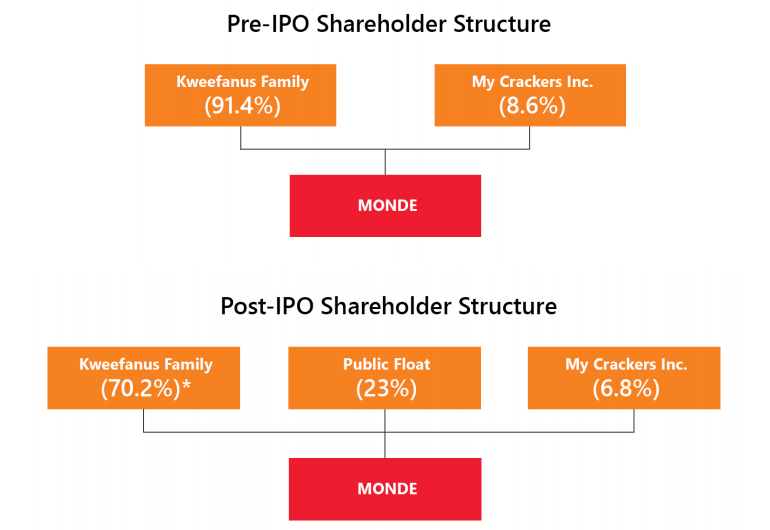 Growth:
MONDE is working on various initiatives to capitalize on the growth potential of its AsiaPacific branded consumer business. The company will continue innovating and launching new products and brands that focus on health and sustainability and for the noodles business, MONDE is looking to adopting a high-speed airflow technology that will reduce oil content by 55% to 70%. This is expected to support accelerate the growth of the category by growing consumer perception of instant noodles.

For bread and biscuits, the group will capitalize on its overall top spot in the category to grow its market share in biscuits and strengthening its foothold in crackers. MONDE is continuously working on healthier biscuit products. It also has new products pipelined in
the wafers and sandwich segment to keep up with the changing consumer expectations. The move towards healthier noodles and biscuits should also be beneficial for its export business, mainly in Thailand, where consumers are more health-conscious compared to
the local market.
Finally, the group is eyeing to penetrate the bread segment with the introduction of its own branded and wrapped bread loaf. The company sees a tremendous opportunity in the bread market given that 70% of the market is still unpackaged and unorganized.
Over the next three years, the company plans to spend Php26.5Bil in capital expenditures, more than double the CAPEX it spent from 2018 to 2020. Roughly 60% of this programmed CAPEX will be spent on the meat alternative business and in growing its capacity. The surplus will be allocated for capacity expansions and operational efficiencies in APAC BFB.
Summary
You can never go wrong with food. We know the Brand and the Products of Monde and the company is an established group with a global reach. This is a defensive stock since it belonged to the food industry and no matter what happens, COVID or no COVID we Filipinos love the brand! I mean LuckyMe! , Skyflakes, etc these are iconic food staples for every Filipino household. MONDE is attractively priced given the long runway for the growth of meat alternatives so is a good investment for the long term.
At the offer price of Php13.5/sh, we estimate MONDE would be trading at 26.5X 2021E P/E. This assumes MONDE's earnings would grow by 25% in 2021 driven by sales growth of 12% based on management's expectations of low-double-digit growth for the AsiaPacific business and 20-25% growth for the meat alternative business.
MONDE has massive CAPEX investments slated over the next few years to help the company capture the strong growth opportunities ahead. Hence, it is important that future capacity expansion plans do not face delays and other issues as this would significantly affect its sales like what happened with Quorn in 2018.
Company Prospectus: https://mondenissin.com/company-prospectus/
---
Trade Stocks: https://gtrade.ph/
Trade Crypto: https://www.binance.com/en/futures/ref/stockbytesph
Get a 10% discount on Binance trading fees: BNWCMBAU
*The owner of StockBytes PH is a licensed Stockbroker and Financial Advisor, contact us if you want to open an account and start investing into stocks.
Ready to start your financial journey? email us at [email protected] or follow our social media account and join our groups, Cheers!