BDO Unibank account holders have reportedly lost thousands of pesos in deposits due to an online banking scam where unauthorized transfers were made to a Unionbank account with a bogus name 'Mark Nagoyo'. Bangko Sentral ng Pilipinas closely monitoring BDO hacking crisis; coordinating with both BDO and Unionbank for remedial measures, said BSP Governor Benjamin E. Diokno.
A familiar pattern has so far appeared among the victims of the hacking scandal: The alleged cybercriminals were somehow able to access the victims' BDO accounts even if they were careful not to click on suspected phishing links nor reveal any of their banking details in public.
The fraud has been massive enough that a public Facebook group called "Mark Nagoyo BDO Hacked" has since been created, with multiple users reporting similar cases of hacking.
Official statement of BDO Unibank about the recent incident where account holders got unauthorized transactions that happened on their accounts.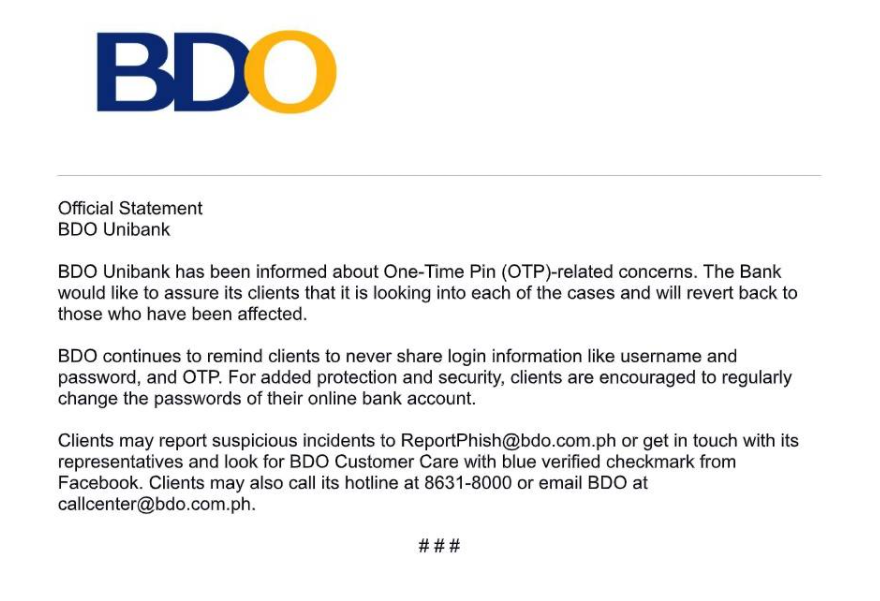 In a statement Sunday, BDO acknowledged there was "a sophisticated fraud technique" that affected some of its clients.
"We assure our affected innocent clients that we will reimburse their losses," it said.
The Sy-led bank also said that it has beefed up its security measures to block threats and to protect bank credentials.
BDO reiterated that clients should secure their accounts by updating their passwords.
"Changing their password improves account security and prevents fraudsters from accessing their hard-earned money," it said.
"We at BDO are continuously investing and working towards improving our security infrastructure to protect our clients' money, the firm added. "While we have put back-end measures in place, we appreciate our clients' continued vigilance to combat fraud."
BSP Governor Benjamin Diokno on Sunday morning said they have been monitoring the spike in complaints buzzing social media platforms since early last week.
"We are in close coordination with BDO as well as UBP (UnionBank of the Philippines) on this incident to ensure that remedial measures are being undertaken, including reimbursement of affected consumers," Diokno said in a statement.
"BSP will do everything to ensure the safety and integrity of the financial system as well as the protection of financial consumer," Diokno said.
Several netizens, who are BDO customers, posted screenshots of unauthorized online bank transfers to a certain Mark Nagoyo, who uses multiple UnionBank accounts. CNN..
BDO vows to reimburse fraud victims, strengthen security controls.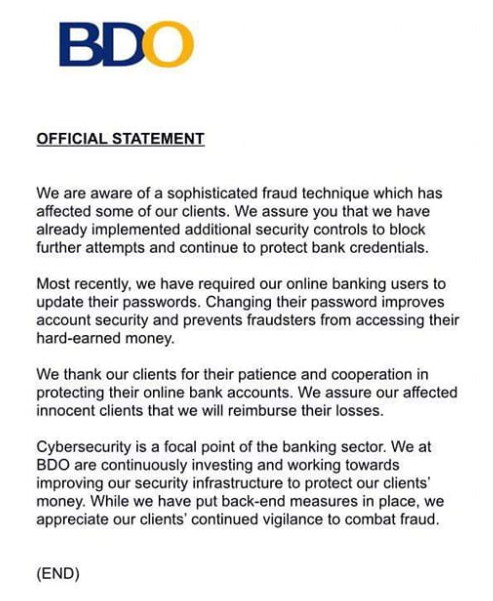 BDO continues to remind clients to never share login information like username and password, and OTP. For added protection and security, clients are encouraged to regularly change the passwords of their online bank account.
Clients may report suspicious incidents to [email protected] or get in touch with its representatives and look for BDO Customer Care with a blue verified checkmark from Facebook. Clients may also call its hotline at 8631-8000 or email BDO at [email protected].
---
Trade Stocks: https://gtrade.ph/
Trade Crypto: https://www.binance.com/en/futures/ref/stockbytesph
Get a 10% discount on Binance trading fees: BNWCMBAU
*The owner of StockBytes PH is a licensed Stockbroker and Financial Advisor, contact us if you want to open an account and start investing in stocks.
Ready to start your financial journey? email us at [email protected] or follow our social media account and join our groups, Cheers!