CTS Global will be offering up to 1.375 billion common shares at a price of P1.00 per share. Proceeds from the IPO will be used by CTS Global for scaling global trading operations, expanding its client accounts segment, and funding its general working capital. CTS Global is a stock brokerage company that buys and sells shares in the Philippine stock market for and on behalf of its clients.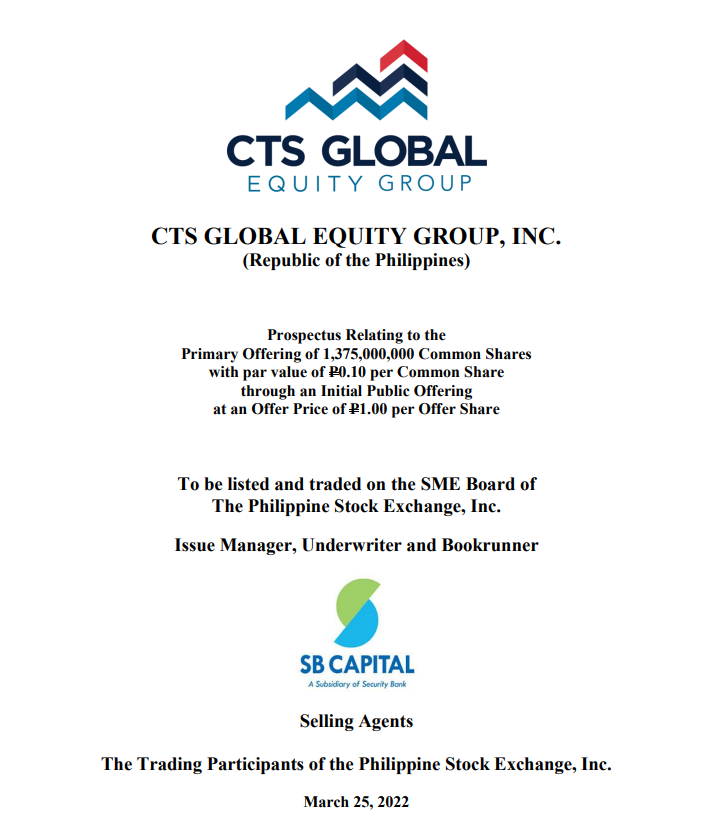 Prospectus: https://www.ctsglobalgroup.com/about-7
Net proceeds from the offering are expected to amount to about PHP1.35 billion, which the company will use for the scaling of its global trading operations, client account management expansion, and general corporate purposes.
The IPO will run from March 31 to April 6, with listing on the PSE scheduled for April 13, according to the latest timetable submitted to the SEC. CTS Global engages in the trading of equities as a broker-dealer for the Philippine market, as well as global markets including the United States, China, Hong Kong, and Japan. Its chairperson, Edward K. Lee, is also the chairperson of listed brokerage firm COL Financial Group, Inc.
The Owner
Mr. Edward K. Lee is a Chairman at Caylum Trading Institute, a Chairman at COL Securities (HK) Ltd., a Chairman at COL Financial Group, Inc., a Chairman at CTS Global Equity Group, Inc., a Chairman & Chief Executive Officer at Barrington Carpets, Inc., a Chairman & Chief Executive Officer at Citimex, Inc., a Chairman & Chief Executive Officer at CWC Development, Inc. and a Chairman & Chief Executive Officer at CWC International Corp. He was elected as one of the Governors of the Philippine Stock Exchange and was the Chairman of the Computerization committee of the Manila Stock Exchange and PSE in 1994.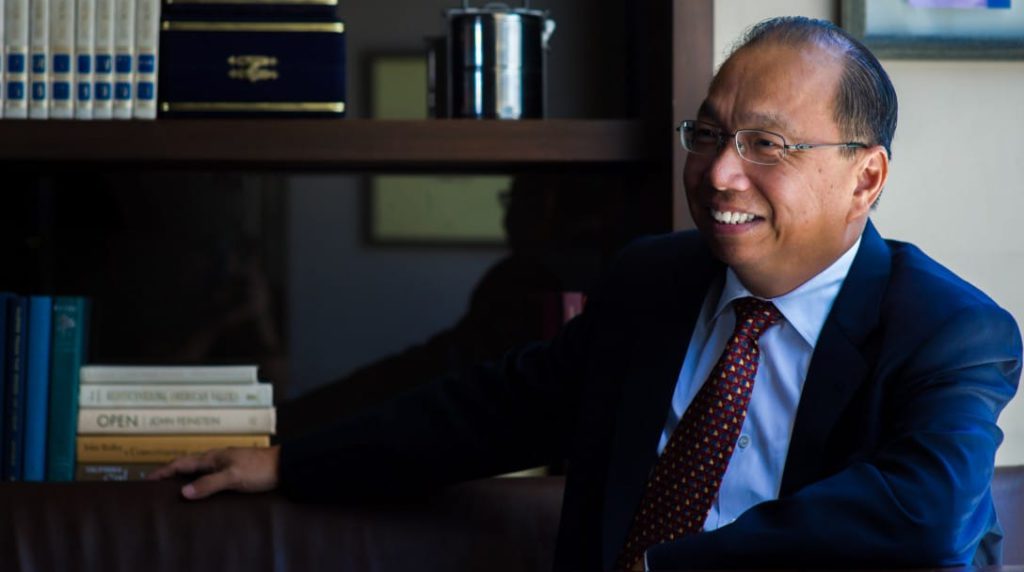 He is the founder and chairman of the country's largest online stock brokerage firm, COL Financial, which accounts for roughly 60% to 70% of online value turnover, according to the PSE. He has been in the market for four decades now but still possesses that enthusiasm he had back when he started.
Financial experts call him the "Warren Buffet of the Philippines", Edward didn't inherit his wealth. He had to build it up himself. He was also not even good in school with his poor grades. He added that the only reason he had passed was that his teacher was his mother.
He was introduced to the stock market at a very young age while still in college. In 1974 he lost all his money and experienced his first taste of a market crash. At the age of 19, he already knew the feeling of being bankrupt. Fast forward, now he's a billionaire owning several companies.
Edward's enthusiasm about the stock market and teaching financial literacy is contagious. I say he is a teacher at heart. This is not surprising because his mother was a teacher. He always talks about the unconditional love showered to him by his parents back in the day when he was still a happy-go-lucky young boy who didn't like school. He could very well be our poster boy for those who got kicked out of school and succeeded in life, earning his billions before hitting senior citizenship. Read: Broker is a Teacher
The Company
CTS Global Equity Group, Inc is one of the most prominent and long-standing stock brokerages firms in the Philippines today. Established in 1986, the management team behind the company is comprised of veteran market professionals who have over 40 years of experience in dealing with the active trading of equities.
After opening up the opportunities of buying and selling stocks to the public, an internal development program was created to train newly hired brokers how to successfully understand markets and to skillfully apply the elements of Fundamental Analysis, Technical Analysis, and Risk Management to their trading strategies. In doing so, the company aimed to educate the staff to competently manage the portfolios of their clients to help them invest and profit from the local market.
All brokers employed by the company are licensed under the Certified Securities Representative program of the Securities and Exchange Commission and currently, there are over 35 staff members divided into equity trading and research for multiple global markets including the US, China, Hong Kong, Indonesia, Japan and, of course, the Philippines.
CTS Global uses Interactive Brokers LLC for its global trading. Interactive Brokers is headquartered in One Pickwick Plaza, Greenwich Connecticut 06830 USA and is considered as one of the best brokers in the world.
For Hong Kong trading, the Company also uses COL Securities Hong Kong Limited, a subsidiary of COL Financial Group Inc., headquartered in Pasig City, Philippines. COL HK is a member of Hong Kong Exchanges and Clearing Limited. In the Philippine market, CTS Global uses its own brokerage segment to execute orders.
Summary
CTS Global will be leveraging on its proprietary skills and infrastructure that it developed to capitalize on opportunities for revenue generation in the equities market. Foremost in its plans is to scale each business unit by raising the capital of their managed assets. The Company believes that the majority of its pool of traders have the capability to utilize a larger capital base.
Currently, CTS Global has a pool of over 30 active traders, almost half of which are designated as Senior Traders that have developed capabilities to instruct, supervise and mentor Junior Traders. Junior Traders are traders that are either in the process of completing their Trader Development Timeline or those that have completed their respective development timelines and are in the process of scaling their portfolios.
This is actually a small offering of only 1.3 billion shares plus the company is a brokerage company we could see a big activity in this stock within the first few trading weeks. The management has decades of experience in the capital market, we are talking about COL Financial, Caylum Trading institute, and COL Securities(HK) it makes no sense for them not to trade or participate in CTS Global IPO.
COL Financial by the way is listed in the PSE as "COL" which was trading around P1.81 before the pandemic and now trading at P3.90 because of solid earnings as more Pinoys jump into the market. I am seeing a Robinhood kinda scenario for the early weeks of the offering but of course, if you wish to own a Brokerage stock this is a great company as well that you can hold for the long term.
This is an interesting article from Bilyonaryo: https://www.bilyonaryo.com/2022/03/15/cts-global-ipo-thumbs-up-or-thumbs-down/
" There is simply no assurance that CTS can generate alpha every year. Even the best traders have their down years. Moreover, minority investors will only own 20 percent of the profits despite contributing most of the capital and dividends are likely to be paltry at least in the first few years (dividend policy is at most only 20 percent of prior year's earnings)," Abacus Securities said.
"Lastly, given the very nature of proprietary trading, annual earnings are going to be very hard to forecast and cannot determine an estimated P/E for the company," it added.